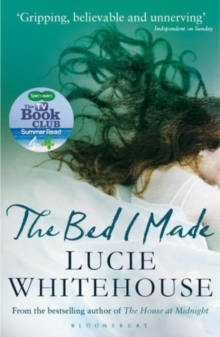 Description
I haven't given up on you and I'm not going to. It's time to stop playing hard to get now. When Kate meets a dark, enigmatic man in a Soho bar, she doesn't hesitate long before going home with him.
There is something undeniably attractive about Richard - and irresistibly dangerous, too.
Now, after eighteen exhilarating but fraught months, Kate knows she has to finish their relationship and hopes that will be the end of it.
But it is only just the beginning. Fleeing London for the wintry Isle of Wight, she is determined to ignore the flood of calls and emails from an increasingly insistent Richard.
But what began as a nuisance becomes an ever more threatening game of cat and mouse.
Information
Format: Paperback
Pages: 320 pages
Publisher: Bloomsbury Publishing PLC
Publication Date: 21/06/2010
ISBN: 9781408809136
Free Home Delivery
on all orders
Pick up orders
from local bookshops
Reviews
Showing 1 - 3 of 3 reviews.
Review by DubaiReader
16/06/2015
Beautifully writte.I generally tend to avoid psychological thrillers but this fell into the mild category and wasn't scary enough to keep me up at night. Having been nominated as one of the TV Book Club Summer Reads for 2010, it was displayed prominantly in my local library so I thought I'd give it a go.It was a good read, well written but only 4 1/2 stars due to the slightly rushed ending.There were several threads to this story, firstly Kate's meeting and developing relationship with Richard who she meets at a Soho bar. The love scenes were beautifully done, Richard sounded absolutely adorable although we sense from the start that all is not as it appears.Secondly there was Kate's life on the Isle of Wight - not the summery, tourist laden island but the wintry, atmospheric version that was so well described that it almost became an additional character in the book.Finally there was the mystery of Alice Frewin's disappearance while out sailing that occurs at the beginning of the book.These elements were expertly interwoven, with the additional looming threat of an unhinged Richard tracking Kate down to her bolt hole on IOW.Highly recommended.
Review by teresa1953
16/06/2015
An enjoyable and suspenseful novel. Dealing with obsession,misunderstanding and complex relationships, it centres around Kate who is "swept off her feet" by the charismatic Richard. There is that saying....if something seems to be too good to be true, it most usually is. Richard is a dangerous psycopath who won't let Kate go. She escapes to the winter torn Isle of Wight to try and escape him after a near rape and beating. Needless to say, things don't end that simply, and more difficult friendships/relationships and misunderstandings follow. I enjoyed the slow plot build up, and the honesty of Kate as a woman with faults, but who is willing to recognise them and do something about it.Highly recommended and promoted as a great summer holiday read here in the UK. Perfect for reading by the pool or on the beach. I sadly had to make do with the conservatory, but it was still gripping!
Review by PhilipJHunt
16/06/2015
A Romance that turns into a Thriller. Excellent pace. Little clues lie along the path towards the resolution. Kept my interest increasing right to the last. Afterwards, the climax was a bit formulaic. I was ready for the rescue, but I hoped for something more surprising. Something about the way the heroine makes connections in the local community didn't ring true. But a fun read for a couple of days.