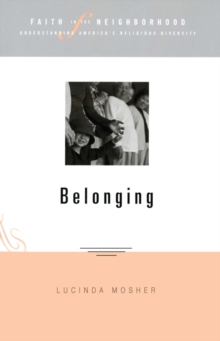 Belonging
Paperback / softback
Description
Announcing a new series: FAITH IN THE NEIGHBORHOOD This series of books explores what it means to live and worship among the many faiths unique to America's neighborhoods.
Each book in the series illuminates the questions Christians have about other faiths such as Judaism, Islam, Hinduism, Jainism, Buddhism, Sikhism, Baha'i, Zoroastrianism, Afro-Caribbean religions, Native-American religions, Confucianism, and Shinto.
Different faiths have different ideals of community, and different kinds of rules.
In Belonging Lucinda Mosher explores the vocabulary of America's many religions, the theologies and rituals that create a sense of belonging, and how these religions handle life's stages--welcoming babies, rites of passage for adolescents, initiation, and conversion. Interwoven with interviews and personal stories, Belonging is intended for interfaith education of all kinds.
A quick guide to each religion, a glossary, and recommended reading are included.
Information
Format:Paperback / softback
Pages:150 pages
Publisher:Church Publishing Inc
Publication Date:01/06/2005
Category:
ISBN:9781596270107