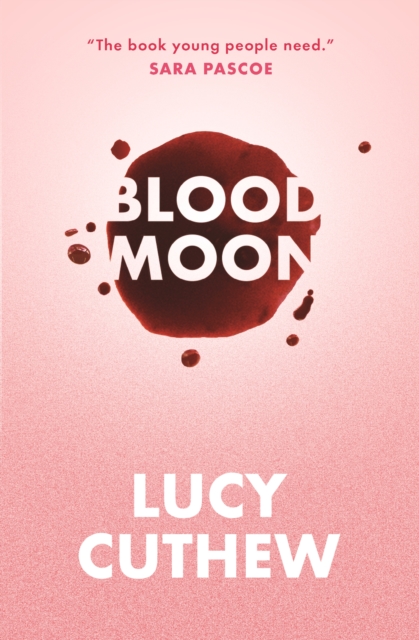 Blood Moon
Paperback / softback
Description
PERIODS, SEX AND ONLINE SHAMING. AN EXTRAORDINARY VERSE NOVEL FROM A BOLD NEW VOICE IN FICTION, PERFECT FOR FANS OF SEX EDUCATION AND SARAH CROSSAN. >> NOMINATED FOR THE 2021 CILIP CARNEGIE MEDAL>> SHORTLISTED FOR THE 2021 AMAZING BOOK AWARDS>> Featured on the Reading Agency's #WonderWomenBooklist>> "The book young people need." SARA PASCOE>> "Bold and vital." SAMANTHA SHANNONDuring Frankie's first sexual experience, she gets her period.
It's only blood, they agree. No shame. Then a graphic meme goes viral, turning a fun, intimate afternoon into something mortifying and damaging. And Frankie begins to wonder: is she disgusting?As the online shaming takes on a horrifying life of its own, Frankie's universe implodes.
But can laughter, bravery and the fiercest of friendships help Frankie find her way out of the darkness?PRAISE FOR BLOOD MOON:"Written with humour and understanding, this is the book young people need." SARA PASCOE"Moving, compelling and bold, it filled me with such hope." LOUISE O'NEILL"With every verse of her debut, Cuthew shouts down the shame, chips away at the period taboo, and firmly establishes herself as a bold and vital new voice in feminist literature." SAMANTHA SHANNON"A bloody brilliant book!" GABBY EDLIN, CEO and Founder of Bloody Good Period"Blood Moon is a tour de force of empathetic, passionate writing that refuses to pull any punches." WATERSTONES"A powerful, fiercely feminist novel that normalizes menstruation and confronts destructive cyberculture." KIRKUS, Starred review"A must-read novel of empowerment." BOOKLIST, Starred review"Captures the joy of a crush, the despair of a lost friend, and the humiliation of being "that girl" on the internet." SCHOOL LIBRARY JOURNAL, Starred review"Blood Moon canters along at a furious pace, evoking the escalating torment of online abuse." FINANCIAL TIMES"A powerful novel in verse about feminism, menstruation, and bullying that really captures what teen life is like today." BOOKRIOT"Brilliant and heart-wrenching." HANA TOOKE, author of The Unadoptables"I devoured this amazing book.
Absolutely genius." KATE WESTON, author of Diary of a Confused Feminist"Frankie's journey will break your heart, while making you want to dismantle society as we know it." YASMIN RAHMAN, author of All The Things We Never Said"A page-turning exposure of online bullying that will incite tears, fury and empowered conversations." AMY BEASHEL, author of The Sky is Mine"Beautiful, eloquent, relevant." WIBKE BRUEGGEMANN, author of Love is for Losers"Gorgeous and important." MARIA KUZNIAR, author of The Ship of Shadows"Sensitively written." PUBLISHERS WEEKLY"Beguiling verse that refuses to pull punches.
Important and inspiring." JOANNA NADIN, author of Joe All Alone"Staggeringly powerful, heart-wrenchingly fragile, desperate, daunting, tender and so very timely." LU FRASER, author of The Littlest Yak"A must read." DAMARIS YOUNG, author of The Switching Hour"A beautiful and brave book that needs to be read." LOUISA REID, author of Gloves Off "Astonishing." C J SKUSE, author of Sweet Pea"Witty, tender and ultimately uplifting, this book marks the arrival of a talented new voice." STEVE VOAKE"I stormed through this book - one minute I was laughing, then next turning pages with shaking hands.
Extraordinary." EMMA READ, author of Milton the Mighty"Brilliant." LUCY VAN SMIT, author of The Hurting"Fabulous.
This book made me laugh, gasp and cry in turns! A teen classic." DASHE ROBERTS, author of The Bigwoof Conspiracy"Every teenage girl should read this, and boys too.
Exceptional." MARISA NOELLE, author of The Unadjusteds"Breathtaking in its simplicity and ability to pack complex thoughts and feelings into a few sparse lines on the page.
Lucy Cuthew is a true master of words." NIZRANA FAROOK, author of The Girl Who Stole an Elephant"Brave and compelling." MARIE BASTING, author of Princess BMX"This is female adolescence, crystallized. And it's astounding." LAUREN MYRACLE, New York Times bestselling author"Brilliant.
I can almost feel the relief of girls everywhere that finally someone is talking about this.
It needs to be on the curriculum." CATHERINE EMMETT, author of King of the Swamp"I barely looked up...
Beautifully written, candid novel." NICOLA PENFOLD, author of Where the World Turns Wild"This book is astounding.
Utterly fearless and original." KIRSTY APPLEBAUM, author of The Middler
Information
Format:Paperback / softback
Pages:416 pages
Publisher:Walker Books Ltd
Publication Date:02/07/2020
Category:
ISBN:9781406393446
Other Formats
PDF from £6.39
EPUB from £6.39
Information
Format:Paperback / softback
Pages:416 pages
Publisher:Walker Books Ltd
Publication Date:02/07/2020
Category:
ISBN:9781406393446