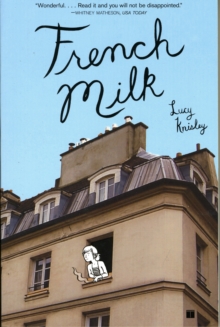 Description
During winter break of her senior year of college, cartoonist Lucy Knisley and her mother embarked on a six-week adventure in Paris to celebrate milestone birthdays: Lucy's twenty-second, and her mother's fiftieth, each angst-inducing for their own reasons.
Staying in a small rented apartment with plenty of quirks in the fifth arrondissement, they surprise themselves by falling into their new surroundings with an unexpected ease, content filling their days with visits to the market, cafe, and museums.
French Milktells the story of it all through Lucy's illustrations and photos.
Filled with gorgeously charming drawings and photos of the sights, smells, and tastes of the City of Light, French Milkwill make anyone pine for a tall glass of it - with a fondant, of course.
Information
Format: Paperback
Pages: 192 pages
Publisher: Simon & Schuster
Publication Date: 01/10/2008
Category: Comics and Graphic Novels
ISBN: 9781416575344
Free Home Delivery
on all orders
Pick up orders
from local bookshops
Reviews
Showing 1 - 5 of 26 reviews.
Previous | Next
Review by picardyrose
16/06/2015
It's cute, but the writing is very small and she seems way too young for me. I won't finish it.
Review by frisbeesage
16/06/2015
What a charming and unique book! Lucy Knisley and her mother took a trip to Paris to celebrate milestone years for each of them. Her mom was turning 50 and Lucy was about to graduate from college. Lucy captured the trip perfectly in this illustrated journal. Eating, art, and shopping are the focus of the trip and I could almost taste the foie gras and pastries! I took a trip to Paris after college and some of the scenes Lucy drew feel just as I remember them, especially the staircase in the Louvre leading to the Winged Victory. Scattered throughout are photographs that she took on the trip and I enjoyed being able to compare her some of her drawings to photographs. In the end I felt like I had escaped to Paris for a few hours. I'll be eagerly looking to see what Lucy Knisley comes up with next.
Review by flyheatherfly
16/06/2015
This is a suprisingly charming book. It is a very quick read about Lucy and her mothers 6 week stay in an apartment in Paris. What makes it unique among travel narratives is that it is told mostly in cartoon/sketch format, with the occasional photo added in. Her woes are what all of us when through in our early 20s, that is included in addition to renderings of her meals and adventures. It is the type of book that will make you pick up a pen and doodle, and vow to do more of that the next time you travel.
Review by kristenn
16/06/2015
This was fun and sweet. It probably helped that I really did want to know what they ate for every meal. The reading was also enhanced by experiences I shared with the author, like visiting Paris, spending a college summer traveling around Europe with a friend, and later going to Europe with my mother. I certainly never had the budget for all that shopping to boot, but flea markets are fun so that was fine. One thing that was missing was an explanation of where the book itself fit into the trip. She spent a lot of time (understandably) panicking about her upcoming college graduation and what she'd do with her life. But when did she decided to do this book? The datelines on a lot of the drawings, if real, imply that was maybe the plan all along, but then why not say so? Wouldn't that have been part of her anxiety? Anyway, she's 22 and I can remember that age and cut a lot of slack accordingly. Although it really wasn't necessary. The fact the publisher is apparently putting this in the Travel section instead of the Comics section will probably lead to disoriented readers, but sort of neat genre-busting too.
Review by anyanwubutler
16/06/2015
Delightful! Sweet! A graphic travelogue/ memoir of the 21 year old author's 6 weeks in Paris with her 50 year old mother. They ate a lot of amazing foods, the author draws most meals, all the art museums and galleries they went to, and shops and market places. It was a joyous trip clearly, and we get to share in Lucy's joy. It was nice to read this delightful chocolate croissant of a book.