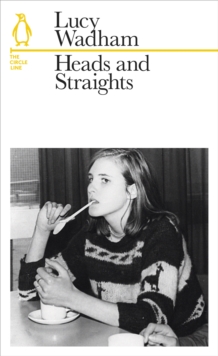 Heads and Straights : The Circle Line
Paperback
Description
From Lucy Wadham, the bestselling author of The Secret Life of France, Heads and Straights is an autobiographical tale of bohemians, punk, the King's Road in the 1970s and family - part of a series of twelve books tied to the twelve lines of the London Underground, as Tfl celebrates 150 years of the Tube with Penguin Also available in a boxset 'A rich, vital family saga, and a feat of narrative compression' The Times 'Authors include the masterly John Lanchester, the children of Kids Company, comic John O'Farrell and social geographer Danny Dorling.
Ranging from the polemical to the fantastical, the personal to the societal, they offer something for every taste.
All experience the city as a cultural phenomenon and notice its nature and its people.
Read individually they're delightful small reads, pulled together they offer a particular portrait of a global city' Evening Standard 'Exquisitely diverse' The Times 'Eclectic and broad-minded ...beautifully designed' Tom Cox, Observer 'A fascinating collection with a wide range of styles and themes. The design qualities are excellent, as you might expect from Penguin with a consistent look and feel while allowing distinctive covers for each book.
This is a very pleasing set of books' A Common Reader blog 'The contrasts and transitions between books are as stirring as the books themselves ...A multidimensional literary jigsaw' Londonist 'A series of short, sharp, city-based vignettes - some personal, some political and some pictorial ...each inimitable author finds that our city is complicated but ultimately connected, full of wit, and just the right amount of grit' Fabric Magazine 'A collection of beautiful books' Grazia [Praise for Lucy Wadham]: 'Penetrating insight and dry observation' Independent 'Beautifully clever and intellectually challenging' Good Housekeeping 'Effortless wit and keen intelligence' New Statesman Lucy Wadham was born in London and has lived in France for the past twenty years.
She is the author of Lost, shortlisted for the Macallan Gold Dagger for Fiction.
Her most recent book is The Secret Life of France.
Information
Format: Paperback
Pages: 112 pages
Publisher: Penguin Books Ltd
Publication Date: 07/03/2013
Category: Literary essays
ISBN: 9781846146398
Free Home Delivery
on all orders
Pick up orders
from local bookshops
Reviews
Showing 1 - 2 of 2 reviews.
Review by Eyejaybee
16/06/2015
Although this volume represents the Circle Line in the recent Penguin series commemorating the London Underground it scarcely rates a mention. In fact, I can't recall any specific reference to "the Circle Line" throughout . At one stage near the end of the book we learn that Lucy regularly travelled from Gloucester Road to King's Cross, and there are regular references to Sloane Square, but that is about as far as it goes. That omission, however, does not detract from the attraction of the book which tells of Lucy Wadham's experience growing up during the late 1970s in an affluent background in Chelsea, just around the corner from the Kings Road.While the family was affluent, it was not without its problems, and one of the rime focuses of the book is the reckless and relentless experimenting with drugs of her elder sisters, culminating in Florence (always known as "Fly) becoming addicted to heroin. We are introduced to Eileen, Lucy's maternal grandmother, who had an amazing story which included knowing Virginia Woolf, running a commercial stable, living in Kenya, marrying three times and then taking a Bosnian toy-boy for the last thirty years of her life.One does feel for Wadham's parents, having their house overrun by their Bohemian daughters' friends and submerged under the scent of their copious drug abuse, though they seem not to have been too bothered, and the overall picture is one of a chaotic but supportive group.I found it enchanting.
Review by kidzdoc
16/06/2015
This is another of the books in the Penguin Underground Lines series, written in celebration of the 150th anniversary of the London Underground. In keeping with many of the books in this collection, the author does not discuss the Circle Line at all, but she has written an interesting and readable book about her experiences growing up in a posh family in Chelsea in the 1970s, at a time when the neighborhood changed to a bastion of the upper middle class to one divided into Heads, the young people like Lucy and her older sisters who smoked marijuana and took heroin, attended hard rock and punk music concerts and partook in promiscuous sex, and Straights, the mostly older residents who maintained a staid 1950s lifestyle. Waldham describes her sisters and parents, but she mainly writes about her maternal grandmother, a free spirit who was influenced by her neighbor Virginia Woolf and, in turn, had both negative and positive impacts on her granddaughters. This book was just the right length to hold my attention, although I would have liked it more if she had included something about the Underground in it.
Also in the Penguin Underground Lines series | View all