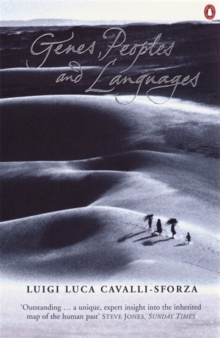 Genes, Peoples and Languages
Paperback
Description
Historians relying on written records can tell us nothing about the 99.9% of human evolution which preceded the invention of writing.
It is the study of genetic variation, backed up by language and archaeology, which provides concrete evidence aboutthe spread of farming, the movements of peoples across the globe, the precise links between races - and the sheer unscientific absurdity of racism.
Genes, Peoples and Languages offers an astonishing investigation into the past 100,000 years of human history and a rare, firsthand account of some of the most significant and gripping scientific work of recent years.
Cavalli-Sforza is one of the great founding fathers of archaeogenetics, and in this book he maps out some of its grand themes.
Information
Format: Paperback
Pages: 240 pages, diagrams, maps, bibliography, index
Publisher: Penguin Books Ltd
Publication Date: 27/09/2001
Category: Social & cultural history
ISBN: 9780140296020
Free Home Delivery
on all orders
Pick up orders
from local bookshops
Reviews
Showing 1 - 3 of 3 reviews.
Review by hippietrail
16/06/2015
Very well researched and insightful, except for the language section which embraces all kinds of proposed superfamilies roundly rejected by the majority of linguists.
Review by deebee1
16/06/2015
A good introductory reading on a fascinating subject by the world's leading population geneticist, summarizing in very-easy-to-follow narrative main findings of his research in the last four decades confirming the hypothesis that the human species is not divided into color-coded races. From the genetic point of view, the concept of different races is unscientific, the outward or physical differences exhibited by various ethnic groups are mere outward adaptation to different climates. He argues and attempts to show that there is a linkage between the evolution of genes and development of languages and cultures. Cavalli-Sforza introduces a lot of information, but only skims the surface which i found disappointing. He also tries too much to "laymanize" some concepts, which i felt perhaps lost a bit of scientific rigor. It does, however, point the reader to other sources, including his own more technical and comprehensive publications.
Review by Jewsbury
16/06/2015
This book is an easy-to-read well-craft tale written by an authoritative geneticist. The author shows how we can discover details of our shared pre-history – the time before writing. It is certainly fascinating to delve into the unknown. Evidence abounds because the past has imprinted itself upon the present. Thus one route is certainly through scant palaeological records. Yet our minds and bodies are themselves hosts to alternative windows on the past. Thus clues to our past are buried in our genes, our languages, our anatomy, our physiology and our cultures. This book takes us through the inferences we can draw from each strand of evidence. Indeed we can even calculate the statistical reliability of many individual conclusions. Naturally all conclusions hold speculations. Nonetheless the consistency of evidence from a range of independent sources gives us confidence in the generalities of the emerging picture. As one might expect, this story has many lessons for the present and our anticipated future. Thus Cavelli-Svorza contextualizes the superficiality of race, the impacts of technological innovation, the progress of cultural interactions, and the tragedy of ignorance.
Also by Luigi Luca Cavalli-Sforza | View all