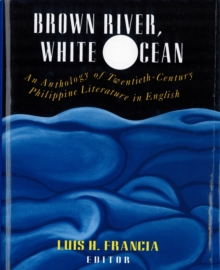 Brown River, White Ocean : An Anthology of Twentieth-Century Philippine Literature in English
Paperback / softback
Description
English is often a primary literary language for Filipino writers--not only for those in the Philippines but for those resident in the US; both groups are included in this anthology of 31 stories and 108 poems documenting a tradition that began at the turn-of-the-century. Manila-born poet and writer Francia, an editor at the Village Voice, gathers and validates creative work that has had limited distribution not only here but in Asia. ``In the Philippine context, what is foreign and what is indigenous has always been a tricky and ultimately impossible subject,'' Francia writes in his introduction. ``Filipinos have unconsciously perfected the art of mixing the two up....'' Readers who expect Filipino English to have the unexpected inflections and inventiveness of Indian or Caribbean English will be disappointed: the Filipino writer uses standard American English as a native language, but spices it naturally with words form indigenous and adopted tongues: Tagalog, Spanish, Ilokano, etc.
Stories look at unrequited passion (in which the sensual tropical ambiance is at odds with society's rules); village life; the different cultures that have settled in the archipelago--Chinese, Japanese, Spanish, Hindu Indian; and the consequences of military, colonial, and economic occupation. Both poems and stories consider the experience of Filipinos--some intellectual, some humble--in the US.
Among the more familiar contributors: Carlos Bulosan, Jos' Garc!a Villa, Jessica Hagedorn, and Ninotchka Rosca. While the prose selected here is more consistent in quality than the poetry, the poems seem more wide-ranging; like the fiction writers, the poets consider love, politics, and metaphysics but move as well into experimentation and the modernist realm.
A satisfying and worthwhile project.
Information
Format: Paperback / softback
Pages: 279 pages
Publisher: Rutgers University Press
Publication Date: 15/09/2005
ISBN: 9780813519999