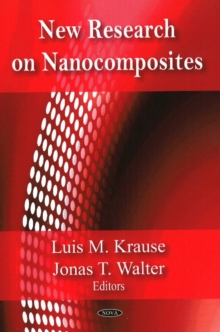 New Research on Nanocomposites
Hardback
Description
Nanophase materials and technology is a new application technology.
Nanocomposites have attracted tremendous attention due to their potential applications in biomedical, catalytic, separation, chemical sensing, fuel cell, capacitors, microfabrication, tribological, resonant coupling, high flux gas transport etc.
Nanocomposite materials are complex nanophase materials which optimise the performance of traditional materials.
Various nanocomposites have been synthesised in a wide range of polymerisation, sol-gel, deposition, magnetron sputtering, supercritical fluid, sonochemistry, laser, etc.Among these works, many strategies were addressed to improve nanocomposites mechanical properties by inclusions (fibers, whiskers, platelets, or particles).
The embedding of inclusions in a host matrix to make composites, which gives material properties not achieved by either phase alone, has been a common practice for many years.
Traditionally, composites were reinforced with micron-sized inclusions.
Recently, processing techniques have been developed to allow the size of inclusions to go down to nanoscale.With the recent developments in the nanoscience and nanotechnology fields, the correlation of composite properties with nanostructure has become a point of great interest.
As a result, much of the work is still ongoing and there is yet to be a definite conclusion on the effect of nano-sized structure on nanocomposite systems.
This book provides leading edge research from around the globe on this field.
Information
Format: Hardback
Pages: 335 pages, charts & graphs
Publisher: Nova Science Publishers Inc
Publication Date: 01/04/2009
Category: Materials science
ISBN: 9781604567991
Free Home Delivery
on all orders
Pick up orders
from local bookshops