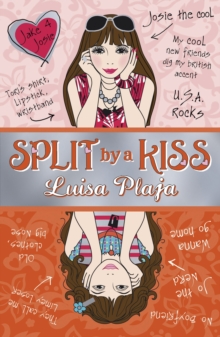 Split by a Kiss
Paperback
Description
Jo has just moved to America with her mum. She's always been a fairly average girl - not a nerd but certainly never one of the popular kids.
But on her first day in her new school, she seems to be adopted by the It girls - and is invited to one of their parties.
There, she meets Jake Matthews, officially the hottest boy in school, and when they begin to play the kissing-in-the-closet game, Seven Minutes in Heaven, amazingly Jake picks Jo join him in the closet!
She can't believe her luck. But the reality of being kissed and groped by Jake is not quite as great as the fantasy...
Jo has a choice to make: should she carry on, kiss Jake and secure her position in the It crowd - or should she tell him where to get off and risk relegation back to the land of the ordinary . . . ?At this moment - Jo splits. She's Josie the Cool - girlfriend of Jake, member of the It crowd.
She's also Jo the Nerd - rejected by the It crowd, single . . . Will her two halves ever come back together again? Is Jake the guy she's meant to be with or could some of the other people she meets along her journey - Rachel the scary goth, David the misfit or Albie the rocker - be the answer?
A fabulously inventive, heartwarming and funny take on the Sliding Doors idea, for teen readers.
Information
Format: Paperback
Pages: 320 pages
Publisher: Random House Children's Publishers UK
Publication Date: 01/03/2008
Category: General
ISBN: 9780552556804
Free Home Delivery
on all orders
Pick up orders
from local bookshops
Reviews
Showing 1 - 2 of 2 reviews.
Review by stephxsu
16/06/2015
An average British girl moves to the United States and is instantly popular because of her cute accent and vocabulary. Sounds like every girl's dream come true, right? And for Josephine Reilly, it happens…sort of. As she's in a closet at a party, kissing Jake Matthews, the hottest boy at school, her Josie the Cool side decides to stay with Jake and the Cool Crowd. Meanwhile, her Jo the Nerd half realizes she's not being true to herself and chooses not to fall in with Jake and the popular girls.Before she knows it, Jo has truly split into two! Jo the Nerd navigates some confusing friendships and an intense crush, while Josie the Cool must reckon with the Cool Crowd's backstabbing and secrets, as well as a misogynistic sort-of boyfriend. What will it take for the two parts of Josephine Reilly to reunite?SPLIT BY A KISS means to be a fun, escapist sort of read, and it never tries to be more than that. Which is good, because it IS incredible fun. The two sides of Jo have believable and enjoyable storylines, and it's always great when conversations or events from Jo's two different "lives" parallel one another, when she has similar conversations at the same time with the same people in both of her lives. Jo is likable as either a cool girl or a nerd: she has a down-to-earth personality that shines through in any situation…except when she's being annoyingly naïve for things that readers can clearly understand.In fact, my one major complaint with this novel—the one that breaks it for me—is its utter predictability. Most of the supporting characters are rather one-dimensional, making it easy for readers to see who her true friends are and which romantic interest she is going to end up with. Therefore, it is frustrating to read more than 200 pages of Jo not seeing what exactly she should do when the reader clearly knows the outcome from the very beginning.If you're looking for a brain-numbingly fun book in between more serious reads, consider SPLIT BY A KISS. Chock full of across-the-pond banter, Luisa Plaja's novels will be sure to find their audience anywhere in the world.
Review by vanedow
16/06/2015
found this book a little disorienting at first, to be honest. When Jo splits, she literally splits. Two mutually exclusive storylines begin, one narrated by Josie the Cool Girl, one narrated by Jo the Geek. It's a cool concept, but it took me a few pages to figure out what was going on. Now you're prepared, and you won't find it as jarring as I did.Once I got into the story, I loved it. Who hasn't wondered what might have been if only you did one little thing different? I thought it was funny the way both versions of Jo questioned whether they made the "right" decision. That's just so true, right? No matter what you do, you always wonder. (At least, *I* always wonder. Maybe you are blessed with a sense of extreme confidence, in which case, I salute you! ) In the bio on Luisa Plaja's website, she says she can't tell jokes. Strange, because she sure writes funny stories. This book had me laughing out loud often enough that my husband just stopped asking what was going on. Jo's reflections on her expectations of life in the US versus the reality were particularly amusing to me. Overall, Jo was a completely loveable character, both as a Mean Girl wannabe and a potential mathalete. One of the things I love about young adult fiction is the tension between who you want to be and who you are, and watching the way characters resolve that. I think Split by a Kiss expresses it well. While this story deals with a few interesting issues, it is fun, lighthearted reading all the way. Therefore, you literature elitists who look down high school fiction and chick lit are going to want to steer clear of this one. As for the rest of you, check it out!