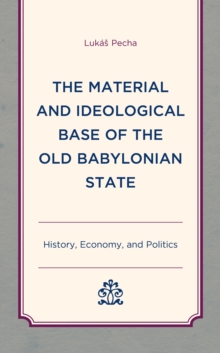 The Material and Ideological Base of the Old Babylonian State : History, Economy, and Politics
Hardback
Description
This book describes and analyzes the economic and administrative structure as well as the ideological background of the Old Babylonian state during the rule of the First Dynasty (1894-1595 BC).
The study of these issues is based on the analysis of written sources of various types, mainly of royal inscriptions, economic and administrative documents, legal records (contracts, court procedures as well as law codes and royal edicts), letters and year names. The book focuses on the activities that the Old Babylonian state performed in the field of economy, administration, politics and ideology.
Primarily, the book brings an analysis of the political and economic role of the Old Babylonian state and it pays attention to the various levels of activities of the king himself as well as the state administration.
The author delimits the fields of competences of various state officials as well as reconstructs mutual relations among persons on various levels of the state administration.
As the Old Babylonian state maintained close relations also to other economic and administrative subjects (such as temples and private persons), the book also reconstructs the relations between the state and those subjects.
Information
Format: Hardback
Pages: 380 pages
Publisher: Lexington Books
Publication Date: 16/12/2018
Category: Regional studies
ISBN: 9781498559874