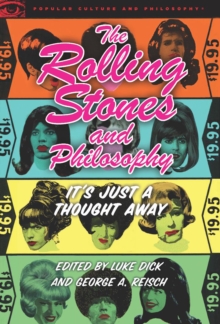 The Rolling Stones and Philosophy : It's Just a Thought Away
Paperback / softback
Description
From their commanding role in the so-called British Invasion of the early 1960s to their status as the elder statesmen (and British Knight) of rock and roll, the Stones have become more than an evanescent phenomenon in pop culture.
They have become a touchstone not only for the history of our times--their performance at the Altamont Raceway marked the "end of the sixties," while their 1990 concert in Prague helped Czechoslovakia and other eastern bloc nations celebrate their newfound freedom (and satisfaction) out from under Moscow's thumb. Because of their longevity, the music and career of the Stones--much more than The Beatles--stand as touchstones in the personal lives of even casual Stones fans.
Everyone of a certain age remembers the Stones on Ed Sullivan, the death of founder Brian Jones, their favorite songs, concerts, or videos, and their stance in the classic "Beatles versus Stones" debates.
In the wake of Keith Richards's bestselling autobiography, Life (2010), many are now reliving these events and decades from the viewpoint of the band's endearing and seemingly death-defying guitarist. The chapters in The Rolling Stones and Philosophy celebrate the Stones' place in our lives by digging into the controversies, the symbols, and meanings the band and its songs have for so many.
What might you mean (and what did Mick mean) by "sympathy for the Devil"?
Did the Stones share any of the blame for the deaths at Altamont, as critic Lester Bangs charged they did in Rolling Stone magazine?
What theories of ethics and personality lay behind the good-boy image of the Beatles and the bad-boy reputation the Stones acquired?
If Keith Richards really had his blood replaced four separate times, does that make him a zombie?
How do the Glimmer Twins help us refine our understanding of friendship?
Written by a dozen philosophers and scholars who adore the Rolling Stones not only for their music, this book will become required reading for anyone seeking maximum satisfaction from "the world's greatest rock and roll band."
Information
Format: Paperback / softback
Pages: 288 pages
Publisher: Cricket Books, a division of Carus Publishing Co
Publication Date: 22/11/2011
Category: Rock & Pop music
ISBN: 9780812697582
Free Home Delivery
on all orders
Pick up orders
from local bookshops