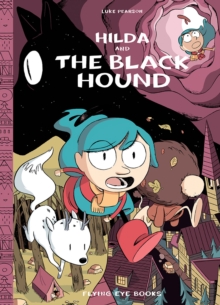 Hilda and the Black Hound Library Edition
Hardback
Description
Hilda is sat in her tent, dwarfed by volumes of the Greater Fjords Wildlife Chronicles with a flashlight and her restless companion Twig, but Hilda's not in the fjords and it isn't raining.
Hilda's pitched a tent in her room and it's been days since she's been out.In Hilda's new adventure, she meets the Nisse: a mischievous but charismatic bunch of misfits who occupy a world beside--but also somehow within--our own, and where the rules of physics don't quite match up.
Meanwhile, on the streets of Trolberg, a dark specter looms . . .Prize-winning author whose previous graphic novel was in Publishers Weekly's Top 25 Children's Picture Books of 2012Hilda and the Black Hound is the fourth installment in the award-winning Hildafolk seriesOther titles in the series are consistently popular in both children's and comic book categoriesLuke Pearson is one of the leading talents of the international comics scene.
He was the winner of the Young People's Comic category at the British Comic Award (2012) and was shortlisted in the Eisner Award's Best Publication for Kids and Best Writer/Artist categories (2013).
Information
Format: Hardback
Pages: 64 pages, illustrations
Publisher: Flying Eye Books
Publication Date: 01/03/2014
Category: Fantasy
ISBN: 9781909263185
Free Home Delivery
on all orders
Pick up orders
from local bookshops
Reviews
Showing 1 - 3 of 3 reviews.
Review by pussreboots
16/06/2015
Hilda and the Black Hound by Luke Pearson is the forth of the Hildafolk series. Hilda and her mother are still living in the city and are trying to set down roots. For Hilda, that means joining the scouting group her mother was once part of.But for a girl who can see spirits and other magical creatures there are lots of distractions. The two newest ones are a large black hound that's terrorizing the city, and a homeless house elf who swears he was framed.And here's where book four rises above the others, by taking full advantage of the graphic novel format. House spirits reside in the spaces between — those spaces in a home that just aren't usable (under the bed, behind the dresser, etc). Those spaces are graphically tied to the edges of each panel, and as Hilda learns to travel between then, she is given the ability to travel between panels, thus opening up the format.Hilda's friendship with the house spirit and the on going news of a black hound attacking people the in city are beautifully interwoven. It's a tight plot made better through the artwork.
Review by ElizaJane
16/06/2015
This is the 4th book in this series and I haven't read any of the others but I think I would have felt more comfortable if I had. By reading I have the impression that Hilda (and her town) are not exactly altogether human, strange things happen there, and everyone takes it all within stride. This book has Hilda joining the Sparrow Scouts, obviously to give her something to do with all her extra energy and imagination. But during this time a large hound has been roaming, and sited, in the woods beyond Trolberg. The Sparrows go camping on private Sparrow ground which has been walled off from the rest of the forest making everyone sure the girls will be perfectly safe from this supposed "creature". At the same time Hilda has come across a Nisse, a house spirit, which has been kicked out of its home. Hilda becomes friends with him, helping him to find a new home and together they manage to both find him a home and solve the mystery of the Black Hound. Cute drawings. A fun fantasy, a bit short, but it keeps you reading quickly. I wouldn't mind having read the first ones because I think if read in order, you may be fond of Hilda by this point.
Review by Sullywriter
16/06/2015
Hilda joins the sparrow scouts and wants to adopt a Nisse. Imaginative and fun.