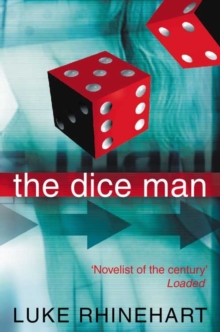 Description
The cult classic that can still change your life...Let the dice decide!This is the philosophy that changes the life of bored psychiatrist Luke Rhinehart - and in some ways changes the world as well.Because once you hand over your life to the dice, anything can happen.Entertaining, humorous, scary, shocking, subversive, The Dice Man is one of the cult bestsellers of our time.
Information
Format: Paperback
Pages: 560 pages
Publisher: HarperCollins Publishers
Publication Date: 06/12/1999
ISBN: 9780006513902
Other Formats
Paperback from £8.65
EPUB from £3.99
Free Home Delivery
on all orders
Pick up orders
from local bookshops
Reviews
Showing 1 - 5 of 11 reviews.
Previous | Next
Review by Lazy_Lauren
16/06/2015
Tedious and long, with many vulgar sex scenes (some involving rape) which seem totally unnecessary. It took me a long time to plough through this, and by the half way point I found myself wishing it would hurry up and end. Sure, the whole concept of living your life by the rolls of die was facinating, but I just didn't "click" with the book as a whole.
Review by davidroche
16/06/2015
A cult classic. Roll the dice to decide the big directions of your life. Whole sects were created on the back of this book.
Review by lambada
16/06/2015
The claim that "this book will change your life" is one I have heard many times before, and it often fails to do so. In this case however it did.The book spends its first few chapter building up your sense of the established order, only for it to be rapidly torn down in the following ones. As you follow Luke on the roller coaster ride that is the life of the die you see him slowly destroy everything we hold dear to us, yet you also see him have moments of questioning what he is doing. It is this aspect that makes him come to life.You will find yourself both repulsed and attracted at the thought of The Dice Man.After reading this book, I thought well it hasn't changed my life, but I was wrong. I found myself paying more attention to my desires and all the little voices. I found myself questionning what I had previously taken for granted. I may not have gone to such an extreme as Luke, but I have certainly discovered more about myself, my stereotypes, and ultimately society.This book HAS changed my life... and I don't regret it.
Review by jaygheiser
16/06/2015
Compelling but troubling novel about a psychologist who, becoming bored with life, founds what is essentially a new religion, based almost purely on chance. Somewhat racy in parts.
Review by Clurb
16/06/2015
The account of psychologist who opts out of society by leaving more and more decisions to chance. Half a story of spiralling insanity and half a diatribe against the suffocating, destructive nature of society, you can't help but be amused by Rinehart's very sexy, very witty anecdotes.