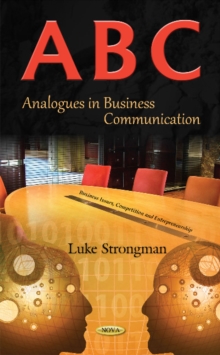 A-B-C : Analogues in Business Communication
Hardback
Description
The highlight of many peoples' daily lives is business, the act of communicating and exchanging, negotiating and transacting, of selling and buying.
In business, while there is always potential for transaction, nothing happens until the business is explained or the deal is done.
Communication is a central ingredient. In fact, good communication alone can constitute a business practice.
It is certainly a social and informant activity which facilitates business interaction.
However, the study of business communication produces as many questions as there are answers: "What was that order again?"; "How do I best advise my staff of this latest developments and the company's progress?"; "How do I work with the competition to better our sales?"; "How do I explain this?" The purpose of this book is to understand vital concepts of business communication in eight easy to read, but scholarly chapters.
A-B-C: Analogues in Business Communication takes a fresh look at many of the issues that people face in the business world at any level today, including such questions as: "When and how to reduce uncertainty"; "What leads to credibility?" and making decisions, management, leadership and self-esteem; "When to use competition and co-operation?"; "What is selling?" and coping with information overload.
Bringing together related concepts in business communication, this book aims to entertain and inform, showing that beneath the plethora of tasks that face us every day in the business world, there are a number of constants, which when understood in more depth, can make business communication easier at a conceptual level for anyone and everyone.
Business is about efficiency, it is about suppliers meeting demand.
In business, no one wants to take longer to accomplish something than he or she needs to; that is, good business communication saves time.
But in order to save time, knowing how to navigate the salient concepts of the business environment is useful.
Who has not heard the business aphorism to "make things happen!"?
In order to "make things happen" you need to communicate, and you need to be able to understand the communication concerns of your business environment.
This is the purpose of A-B-C: Analogues in Business Communication.
Free Home Delivery
on all orders
Pick up orders
from local bookshops