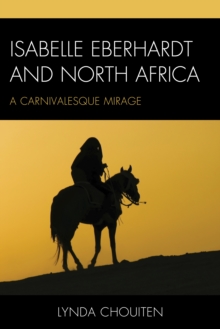 Isabelle Eberhardt and North Africa : Nomadism as a Carnivalesque Mirage
Hardback
Description
As a woman who traversed the North African Orient in male costume, who spoke Arabic as well as French, and who professed Islam while transgressing many of its instructions, Isabelle Eberhardt seems to fit within Mikhail Bakhtin's definition of the carnivalesque as the impulse to blend that which is usually kept separate by artificial boundaries and hierarchies.
Nevertheless, this study demonstrates that her evolution in the Maghreb is carnivalesque only in appearance.
Despite her transvestism, the writer left unquestioned the traditional definitions of masculinity and femininity; it is her subscription to the patriarchal equation of maleness with power and womanhood with weakness which makes her borrow a masculine identity.
In a similar way, her appropriation of several elements of Oriental culture does not prevent her from reproducing age-old Orientalist stereotypes.
As portrayed in her texts, the natives are either aestheticized as picturesque figures from a bygone age or denigrated as uncivilized, dark-minded creatures. And because Orientalism, as Edward Said has famously argued, is but a textual manifestation of colonialism, Eberhardt's Orientalist texts make her the accomplice of the colonialist project, a project which she also served by acting as a mediator between General Lyautey and native tribes.
In discussing Eberhardt's involvement in the colonial mission and her perpetuation of the patriarchal and Orientalist traditions, this study questions the image of rebel-figure that is usually assigned to her.
Instead, it shows the writer's literary and political gestures to be embedded in a marked quest for empowerment through the double (literary and political) conquest of the Orient.
Information
Format: Hardback
Pages: 246 pages
Publisher: Lexington Books
Publication Date: 12/11/2014
Category: Literary studies: general
ISBN: 9780739185926
Free Home Delivery
on all orders
Pick up orders
from local bookshops