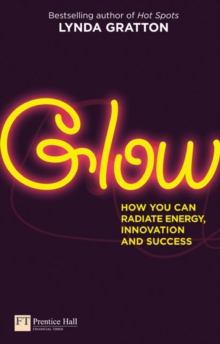 Glow : How you can radiate energy, innovation and success
Paperback
Description
� Destined to be one of the most talked about business books of the decade.� Marc Silvester, Chief Technology Officer & Head of Service Innovation, Fujitsu� Churchill once said that we are all worms but some of us are glow worms.
This readable and invaluable book teaches us how we can all glow, which means to me success at work and success at life"Warren Bennis, Distinguished Professor of Business, University of Southern California and author of On Becoming a Leader"Glow is a lively, entertaining, and solidly researched blueprint for career success."Gary Hamel, author of Leading the Revolution and Competing for the Future "I encourage everyone to read it who wants a more meaningful life, or to help others to achieve it"Hallstein Moerk, Executive Vice President, Human Resources, NokiaHOW WILL YOU STAY AHEAD OF THE CURVE?LEARN TO GLOWSome people just Glow.
They radiate enthusiasm, positive energy and inspiration in their own work and they excite and ignite other people.
These are the people who get to work on the exciting projects, who are always in demand, who stay ahead of the curve and create real added value in today� s increasingly competitive world.
Wouldn� t you like to Glow too? Well, now you can! In this engagingly written and highly practical book, Lynda Gratton shows you the three core principles that will enable you to become indispensable in your job. And she gives you nine concrete actions � that you can start today � to help you develop the key skills, habits and choices you need to Glow.
Once you� re glowing, things start happening.In this beguilingly straightforward but insightful book, Lynda Gratton reveals the secrets of people who Glow at work and shows you how you can Glow too.
She guides you through the three core principles, showing you how:you can develop a co-operative mindset you can reach across traditional boundaries and build valuable networks in new, constructive ways you can ignite inspiration, innovation and energy in yourself and others Glow shows you how to be more innovative, more collaborative, better connected � in other words, more valuable in what you do and, as a result, more sought after � without working yourself into the ground.
To help you hone in on exactly where you should focus your efforts, throughout the book Glow coaches you through a simple diagnostic profile to help you understand your own capabilities and those of your team and your organisation.
It also includes handy checklists and tools to measure your progress and to help you Glow.GLOW � BECAUSE YOU DON� T WANT TO BE STUCK IN THE BIG FREEZE About the authorLynda serves as Professor of Management Practice at the London Business School and is the founder of the Hot Spot Movement.
She has written six books and many academic articles.
Her books have been translated into over 15 languages and are seen as seminal pieces in the field of corporate and individual development.
Over the last decade Lynda has been profiled in numerous magazines including Personnel Today, The Guardian and the Financial Times.
In 2007 Human Resources Magazine ranked her as one of the top two most influential people of the profession and she has twice been named by The Times as one of the world� s top business thinkers. Over the last five years Lynda has taken her message about energy and innovation to conferences around the world � including Australia, Austria, Estonia, Finland, Germany, India, Japan, the Netherlands, Singapore, and the USA. Lynda lives in London and Spain with her two sons. To learn more about Glow and the profiles and tools that support it go to www.hotspotsmovement.com.
Other Formats
PDF from £30.56
EPUB from £30.56
Free Home Delivery
on all orders
Pick up orders
from local bookshops
Also in the Financial Times Series series | View all