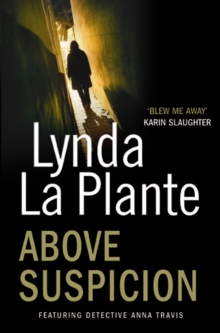 Above Suspicion
Paperback
Description
The first instalment in the bestselling Anna Travis series from the BAFTA-winning writer Lynda La Plante Young Anna Travis has been assigned to her first murder case - a series of killings that has shocked even the most hardened of detectives.
They started eight years ago - now the body count is up to six.
The method of killing is identical, the backgrounds of the girls identical - all drug-users and prostitutes.
Then a seventh body is found. The modus operandi is the same - but the victim is a young student with the 'face of an angel'.
The profile of the murderer has changed dramatically.
Determined to earn the respect of her male colleagues, Anna stumbles on a vital piece of information which links one man to the killings, a much-loved actor on the brink of international stardom.
His arrest would create a media frenzy. But if he were foundinnocent, his wouldn't be the only career over - Anna's hard fought for reputation would be destroyed once and for all ... 'Lynda La Plante practically invented the thriller. Above Suspicion blew me away - it grabs you and doesn't let go until the last page' KARIN SLAUGHTER 'La Plante is building up an interesting body of writing that is underrated...
Anna proves a resourceful and believable heroine and heralds the launch of a major new character' GUARDIAN 'The prime suspect here is an adored actor, poised to hit the big time.
Could he really be behind a string of grisly murders?
It's up to Anna Travis, La Plante's gutsy new heroine, to find out' MAIL ON SUNDAY 'Like Jane Tennison, Anna Travis has to work a world which is still rampantly chauvinistic... it is a novel to read about the complexity of relationships, as well as for its compelling plot' DAILY EXPRESS
Information
Format: Paperback
Pages: 528 pages
Publisher: Simon & Schuster Ltd
Publication Date: 06/01/2011
Category: Thriller / suspense
ISBN: 9781849834339
Other Formats
CD-Audio from £13.79
EPUB from £5.99
Paperback from £10.65
Free Home Delivery
on all orders
Pick up orders
from local bookshops
Reviews
Showing 1 - 2 of 2 reviews.
Review by scuzzy
16/06/2015
So, to the second book mates of mine left here when they came to stay. This book is a beaut! Crime fiction can be so hit and miss but Linda has got the story telling down pat. From hooking you in with some gruesome autopsy to becoming fascinated in the lives of the two main characters, a seasoned homicide detective and the rookie, a young female cop roped in to help with a possible serial killer. In the vein of the Ross & Rachel "will they, won't they" the side story of the two cops had me somewhat hooked, and personally I hate how writers feel obliged to put in some sort of love story or gratuitous sex…but not this time which had hints of both. So, back to the story…London seems to have a serial killer and while the cops are continually frustrated with trying to catch a break they also have to battle with internal politics and their own demons. And when it seems the killer may also be involved in killings across the Atlantic, the case takes on biblical proportions. Then they finally have a suspect. But as a high-profile actor with all the schmooze and graces of royalty it becomes a battle between the two characters; one believing he is the killer, the other believing otherwise. It is the classic 'circumstantial' evidence versus hard facts. Loved the book, and it has come to my knowledge there are more in the 'series'. Well put me down for one of two and lets hope she can keep up the great story telling.
Review by Eyejaybee
27/08/2015
Lynda La Plante has carved out an immensely successful career as a writer and producer of gritty television crime drams, such as 'Prime Suspect' and 'Trial and Retribution'. I had not, however, ever thought of her as a novelist, and was intrigued when I picked up this book in the local Oxfam shop.She writes well, and, as might be expected from her mastery of the television format, she certainly knows how to capture and then hold the reader's attention. There isn't much in the way of purple prose, but she writes clearly and drive. Her character all seem plausible and her plot is soundly constructed.The novel opens with Detective Chief Inspector Langton and Sergeant Anna Travis attending the recovery of the corpse of a young woman who had been murdered some five or six weeks previously. Langton is a slightly clichéd character - the hard-bitten senior officer who has seen it all while Travis is recently promoted, newly-appointed to the Murder Squad and desperately ambitious. We soon learn that her late father had been a well-respected superintendent, one of the old school.Forensic investigations reveal that the corpse was the latest victim in a string of brutal sex crimes stretching back for several years. As the police follow up the meagre selection of leads one potential suspect emerges: Alan Daniels, a successful actor who, after securing a string of gradually larger television roles is now on the cusp of major stardom.La Plante takes the reader through an intricate web of blind alleys, and Travis is an appealing protagonist - essentially sympathetic but not without her own flaws.