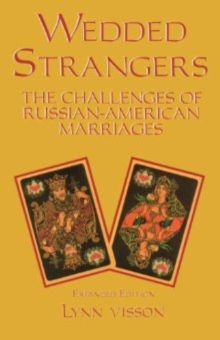 Wedded Strangers: The Challenges of Russian-American Marriages
Paperback / softback
Description
Russian-American marriages reflect many of the same issues and problems of other inter-cultural marriages, but at the same time face some unique challenges.
Since the publication of the first edition of Wedded Strangers in 1998, the number of these mixed couples has soared.
Improved relations between the countries have brought hundreds of Russians to the U.S., while Americans continue to travel to Russia for business, study and tourism.
Dozens of dating and marriage agencies in the two countries are busy matching Russians with Americans.
The Internet, chat rooms, e-mail, and list servers for Russian-American couples and for people seeking spouses have revolutionized romance.
Further, the end of the Soviet Union has eased travel restrictions, heartbreak over denied visas, and harassment of these couples. In response to these factors and to the hundreds of letters, phone calls and e-mails that poured in from couples who read the first edition and wanted to share their own stories, Dr. Visson has expanded Wedded Strangers with new material, including a chapter on marriages resulting from the phenomenal growth of agencies and Internet sites which introduce American men to Russian women.
Another chapter deals with contemporary young couples who choose to live in both Russia and the U.S.
A third chapter is devoted to the results of these marriages: a new generation of Russian-American children.
The author shows how the couples differ in their attitudes toward raising children and explores the hopes and frustrations of these families.
Information
Format: Paperback / softback
Pages: 320 pages
Publisher: Hippocrene Books Inc.,U.S.
Publication Date: 01/12/2000
Category: Family & relationships
ISBN: 9780781808323
Also by Lynn Visson