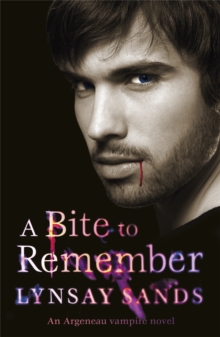 A Bite to Remember : An Argeneau Vampire Novel
Paperback
Description
Rule #1: Never get involved with someone who won't be there for you when the sun comes up.Rule #2: Never kiss a vampire ... it can be a pain in the neck.Once bitten, twice shy - and sexy PI Jackie Morrisey *so* wasn't going there again with a vampire.
Vincent Argeneau might be the hottest guy she'd ever met, living or dead, but she'd been hired to stop a killer from turning him into dust, not to jump into bed with him.
So what if Vincent's had four hundred years to perfect his kissing skills, and looks incredibly tempting when he runs around the house shirtless.
He's also charming, protective ... and did we mention he can kiss? Jackie needs to be on her guard, or else she'll have to come up with a new rule: if you're going to fall in love with a vampire, make sure it's a bite to remember.
Information
Format: Paperback
Pages: 384 pages
Publisher: Orion Publishing Co
Publication Date: 01/01/2011
Category: Fantasy
ISBN: 9780575099524
Free Home Delivery
on all orders
Pick up orders
from local bookshops
Reviews
Showing 1 - 1 of 1 reviews.
Review by blodeuedd
16/06/2015
Plot:Someone is sabotaging Vincent's plays and to his rescue comes a female PI, sexy, mortal, and with a bit of grudge against immortals. Then his aunt shows up too afraid that he is lonely and depressed.My thoughts:Shall I state my do not worry OCD peeps message again, ok. I read book 1 and now I read this one. Were there books in between yes, Vincent's aunt mentioned that his cousins had found life mates but that was it. And the nano thing was explained again and some other things. This book was a perfect stand alone novel. Trust me on this.Vincent then, an actor, 400 years old, and a bit tired of the hunt, and even sex. He has a disorder that the nanos can't fix. He needs to feed from a source, not bag of blood. He is a hottie, nice and cheery around others. Jackie is all business, good at what she does, and she has been bitten before and doesn't have happy memories of her old lover. But there was chemistry between this couple, even if it took some time for them to act on it.There is saboteur, and the hunt for this person. I kept wondering who it could be, and things will happen. That is all I am saying.This series is still very light, and with subtle humour here and there. Some romance, passion, danger, and interesting vampires. There was also one great side character and that was Jackie's associate Tiny, this huge guy who loved to work in the kitchen. I could just see him baking his muffins.Recommendation and final thoughts:I like this light series, and the Argenau family. They have a rich history and there are sure certain members of the family whose stories I would like to read. I also liked how easy it was to just jump into this series.
Also in the Argeneau Vampire series | View all