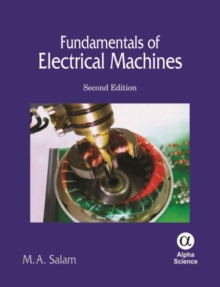 Fundamentals of Electrical Machines
Hardback
Description
"Fundamentals Of Electrical Machines" has been revised thoroughly for readers, specially undergraduate students, to have a better and a clearer understanding of the subject.
The following topics are new to the second edition: review of electric circuits; Fleming's rule and mutual inductance; exact and approximate equivalent circuit of a transformer; transformer losses; parallel connection of transformer with equal and unequal voltage ratios; transformer cooling and instrument transformers; power system symbols and per unit systems; demagnetizing and cross magnetizing components; details of armature voltage control method. Speed control of dc motor by thyristor and diode; dynamic and regenerative braking of dc motor; approximate equivalent circuit and condition for maximum mechanical power of three-phase induction motor; classification of three-phase motor by properties; cogging, crawling and double squirrel cage motor; details of speed control of three-phase induction motor; stepper motor and its classification; and answers to all exercise problems are included at the end to encourage problem solving.
An instructor's manual is also available to academics upon request.
Information
Format: Hardback
Pages: 416 pages
Publisher: Alpha Science International Ltd
Publication Date: 14/12/2011
Category: Electrical engineering
ISBN: 9781842657041
Free Home Delivery
on all orders
Pick up orders
from local bookshops
Also by M. A. Salam