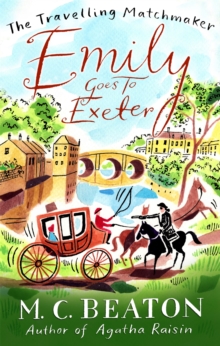 Emily Goes to Exeter
Paperback
Description
The first book in M.C. Beaton's charming Travelling Matchmaker series. A dead employer's legacy of five thousand pounds allows spinster Hannah Pym to resign from housekeeping and find adventure travelling the English countryside by stagecoach.
But adventure soon finds Miss Pym in the form of Miss Emily Freemantle, a spoilt violet-eyed beauty fleeing an arranged marriage to a rake she has never met. When the girl's darkly handsome betrothed boards their stage, Miss Pym is certain Emily was rash to bolt from this aristocratic catch! And so as soon as the travellers repair to an inn, Miss Pym begins her matchmaking...and although Lord Ranger Harley complains he'll not marry an ungrateful minx, Miss Pym suspects once she's marshalled the couple into sharing intimate household chores, all romantic knots will be untangled! 'Romance fans are in for a treat' - Booklist '[M. C. Beaton] is the best of the Regency writers' - Kirkus Reviews
Information
Format: Paperback
Pages: 192 pages
Publisher: Little, Brown Book Group
Publication Date: 20/11/2002
Category: Romance
ISBN: 9781849014793
Free Home Delivery
on all orders
Pick up orders
from local bookshops
Reviews
Showing 1 - 2 of 2 reviews.
Review by joririchardson
16/06/2015
I am not entirely sure why I decided to read this book, as it is not really my type of reading. As the corny title and the name of the series suggests, this book does not exactly appear to be anything profound.And no, it wasn't.This is the story of Miss Hannah Pym, a middle aged woman who inherits a small fortune from her deceased employer. With her money, she decides that she would like to travel, in the hope of having adventures. On her journey to Exeter, she meets a young lady disguised as a man because she is running away from an arranged marriage. Her husband to be is also present, having tracked her down, but assures her that he has no wish to marry her. However, Miss Pym see otherwise, and does her best to pair the two together. She also comes across a widow who is traveling with her crude fiancee, who may not actually be her fiancee, and who also just might be capable of murder. All of this, and a blizzard interrupting their travels, are just some of the adventures that Miss Pym finds.This little book was pretty much a fluff read, though at some points, I felt a little bit of that truly quaint, English countryside, Jane Austen atmosphere, which I love.This book is really quite juvenile, and I am trying to think of a reason why I shouldn't recommend it to middle school girls. Perhaps the only thing that younger readers may not appreciate would be the main character, Miss Pym, being older - about forty. There are also some scenes in which sexual desire is described, but it is certainly far less prominent than some other teen books I have read.The entire story is lighthearted, and, like in children's books, there are minor (and of course exciting) calamities that all get fixed up tidily by the brave ! Also, I found the sub-plot about the blizzard so child-storybook-like, I liked it. There is a blizzard, and all of the travelers are staying at an inn. In the night, the servants go home, but the next morning, they are unable to come back to work due to the snow. So, Miss Pym, who was formerly a housekeeper, goes about ordering the wealthy and often snobby guests to work. A very juvenile theme.Even at the end, when there are graver matters to pursue such as attempted murder and poisoning, everything remains cutesy and entertaining rather than suspenseful or serious.I won't even go into what about the plot was badly written, or how realistic the characters were, because, well... Look at the title. Would you expect them to be anything but average?All in all, this is a cute little story that would be good for a quick read when you want something to cheer you up.
Review by riverwillow
16/06/2015
Very formulaic, but an interesting idea nevertheless. Hannah Pym is an interesting character, although, like so many of Beaton's main protagonists, she could become annoying after a while. But for the moment this passed the time.