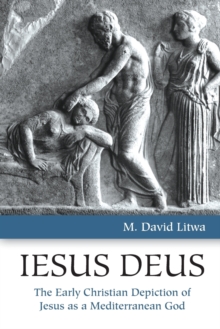 Iesus Deus : The Early Christian Depiction of Jesus as a Mediterranean God
Paperback / softback
Description
What does it mean for Jesus to be "deified" in early Christian literature?
Although the divinity of Jesus was a topic of profound and contested discussion in Christianity's early centuries, believers did not simply assert that Jesus was divine; in their literature, they depicted Jesus with the specific and widely-recognized traits of Mediterranean deities.
Relying on the methods of the history of religions school and ranging judiciously across Hellenistic literature, M.
David Litwa shows that at each stage in their depiction of Jesus' life and ministry, early Christian writings from the beginning relied on categories drawn not from Judaism alone, but on a wide, pan-Mediterranean understanding of deity: how gods were born, how they acted to manifest power, even how they died-and, after death, how they were taken up into heaven and pronounced divine. Litwa's samples take us beyond the realm of abstract theology to dwell in the second- and third-century imagination of what it meant to be a god and shows that the Christian depiction of Christ was quite at home there.
Information
Format: Paperback / softback
Pages: 208 pages
Publisher: Fortress Press,U.S.
Publication Date: 01/03/2014
Category: The historical Jesus
ISBN: 9781451473032
Free Home Delivery
on all orders
Pick up orders
from local bookshops