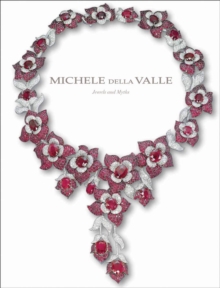 Michele della Valle : Jewels and Myths
Hardback
Description
"It began as a game and must remain as a game." Michele della Valle Michele della Valle is unquestionably one of the leading jewellers at work in the world today.
He is famed for his appreciation of rare and unusual gemstones and it is his quest for and discovery of those gems that forms the heart of every piece he makes. "I am continually travelling in pursuit of that rare stone full of charm.
I love to travel, I love to find..." Della Valle is celebrated for his great appreciation and application of colour, and it is this above all else that is most admired in his work: "Rare and precious or unexpected and mysterious, the vibrant grass greens, flaming orange and lilting blues of sea and sky are the colours of jewels for which he has become celebrated."Vivienne Becker. It is his use of unusual and unconventional materials that has really marked him out as a very modern and truly original practioner of his craft: "Recently, I used carbon fiber in an unusual way to mimic the feather-like details found around the pistils of anemone flowers" Michelle della Valle in the New York Times.This book is an autobiography told through pictures of della Valle's influences and above all his spectacular jewellery creations. "A story in pictures that spoke of my adventurous travels to exotic countries in search of rare and precious stones.
I hope it will succeed in telling you about me, about my work, about my emotions and the myths that inspired me.
It is not a boring autobiography but rather a dream in colours.
I have dreamt of extraordinary people and places, I dreamt the cheerfulness, I dreamt the colours and the joy of nature.
It is precisely from these dreams my jewels are born."
Information
Format: Hardback
Pages: 352 pages, 270 col., 40 b.&w.
Publisher: ACC Art Books
Publication Date: 24/09/2014
ISBN: 9781851497713
Free Home Delivery
on all orders
Pick up orders
from local bookshops