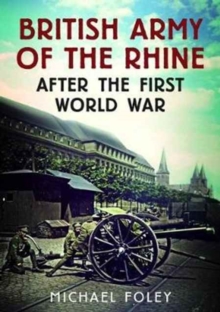 British Army of the Rhine After the First World War
Hardback
Description
When the First World War ended British troops crossed the Rhine into Germany and entered a country torn by violence and unrest where revolution threatened and civil war seemed more likely every day.
There was also a threat of the war resuming if Germany refused to accept allied terms.
The British forces were plunged into the turmoil of a defeated country and had to face not only the political unrest but the German public who they expected to be in a hostile mood as they faced the victorious British and allied forces taking over their country.
The British troops not only faced this difficult situation but were disillusioned with their continued service.
The majority of them had expected to be demobbed as soon as the war was won.
This then was the situation they found themselves in, looking forward to going home and instead forced into a hostile country where the war may break out again at any time.
This book looks at how the British troops coped with their situation.
How they became the most popular members of the occupation force and how Britain and the world faced the growth of German unrest that led to the Second World War.
Free Home Delivery
on all orders
Pick up orders
from local bookshops