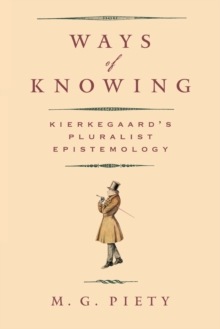 Ways of Knowing : Kierkegaard's Pluralist Epistemology
Paperback / softback
Description
Kierkegaard is considered one of the most important thinkers of the nineteenth century, but until now very little scholarly work had been done on his epistemology.
As M. G. Piety explains, this is a serious problem, as Kierkegaard's views on our ways of knowing are, and must be, intimately related to his view on religious faith and its role in human experience.
Thus, in Ways of Knowing , Piety offers the first book-length exploration of Kierkegaard's views on knowledge, an epistemology that she argues is both foundationalist and nonfoundationalist, substantive and procedural, and includes both internalist and externalist theories of belief justification.
In developing, then, a general outline of Kierkegaard's views, Piety provides the foundational material for future contextualizing and comparative scholarship.
Information
Format: Paperback / softback
Pages: 210 pages
Publisher: Baylor University Press
Publication Date: 15/08/2018
ISBN: 9781602583467