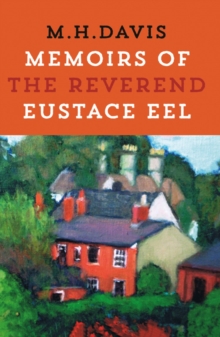 Memoirs of the Reverend Eustace Eel
Paperback / softback
Description
Welcome to the dysfunctional world of Reverend Eustace Eel, aided by an array of church officers who orbit around him on the Much Steepledown Circuit. A fascinating cast of characters includes the furtively scheming Geoffrey Vole; the inscrutable Amelia Spinks; the over-excited Dominic Eager; the happy-go-lucky, communications expert, Cheryl Clatter; the reticent trainee Minister, Alison Mutely; the clownish Jimmy Beecher and the delectably dim steward, Daphne Sugar.
On top of all this, we also meet the District Chairman, Revd.
Loudwind, all too fond of his own opinionated, booming voice. Add to this supporting cast the incompetent, deluded Reverend Eel, along with his fiery wife Megan and her cheeky parrot, Oswald, and anything can and does happen! To bring a bit of sanity into proceedings, a few bemused, authentic Christians are thrown in for good measure. Marvel at Revd. Eel's sublimely canny ability to extricate himself from tricky situations! But also enter into his besetting trials and tribulations of Ministry life.
Commiserate with him on his overgrown Manse garden; Megan's critical, volatile temperament; his chief thorn-in-the-flesh, Peter Steele of Puglesy Chapel and the petulant, irritating, Rodney Rasper. And sympathize with Eel over his agonizing fears about possible Circuit merger.
Follow Revd. Eel's progress as he seeks re-election as Minister; enjoy with him his well-earned Sabbatical; share his distress at mould in the Manse; relish his handling of funeral services and church discipline and be agape at his gospel mission witness whilst lying on an inflatable bed!Despite the interlaced comic humour and satiric irony, the novel has an underlying serious aspect; namely, to show the ongoing destructive nature of personality-delusion and its equally disastrous effects on susceptible church colleagues and congregation members.
Information
Format: Paperback / softback
Pages: 192 pages
Publisher: Troubador Publishing
Publication Date: 04/10/2018
ISBN: 9781789014952
Free Home Delivery
on all orders
Pick up orders
from local bookshops