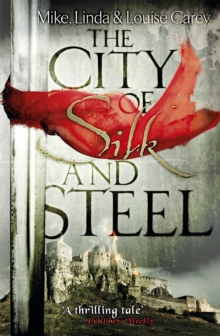 City of Silk and Steel
Paperback
Description
This is the tale of a city - like any other city, to begin with - and how it was lost and won, and lost again.
This is the tale of an unusual army and its extraordinary leaders: Rem, the librarian, whose tears are ink; wise Gursoon, who defines their conscience; and the silver-tongued thief, Anwar Das, who knows when to ignore that conscience. And it is the tale of the mysterious Zuleika, with her unexpected gift for violence.
Without her, the city could not have been taken; because of her, it could not be held.
Most of all, this is the tale of Bessa, the city of silk and steel, as much legend as truth: its fate will haunt you for as long as stories are told ...
Information
Format: Paperback
Pages: 544 pages
Publisher: Orion Publishing Co
Publication Date: 15/05/2014
Category: Fantasy
ISBN: 9780575132672
Free Home Delivery
on all orders
Pick up orders
from local bookshops
Reviews
Showing 1 - 1 of 1 reviews.
Review by zjakkelien
16/06/2015
Well, this is a tough one to review. On the one hand, I greatly appreciate the effort. The story is wonderful: a group of concubines takes life into their own hands when forced to it, and decides they like it. They build a new life for themselves, a life in which women rule and are allowed to do something with their lives. They conquer a religious fanatic, they change their lives for the better. A wonderful story! Passes the Bechdel test easily! Great female characters, and a lot of them, including two great lesbian characters. It's such a pity that the authors don't know how to tell a story... It really took me over 150 pages to get into it enough without getting annoyed at the writing style. It is written very distantly, a bit like someone is telling stories, or fairy-tales. That makes it very difficult to connect to any of the characters, despite the fact that they are great. And it is very necessary to connect to them, because the first few chapters introduces quite a few of them. And just about every single chapter starts like a story told to toddlers again. By the end of the chapter, perhaps you get into it a bit, and then whoop, new chapter, new shallow, distant fairy-tale. I skipped the chapter where one of the characters is ACTUALLY telling a fairy-tale. He is clearly making up a story about himself, but still the whole chapter is 'and the young man did this', 'the young man did that'. Boring! The middle of the book finally gets a bit better. Then part 2 starts. Yes, for some reason the book is divided in two parts. And the second part reads like a bunch of short stories. As if the authors thought out a few of them, and then decided to stick them at the end. They feel completely random. The last few chapters make more sense again.Because the story is so great, and the characters are so cool, I'm going with 2.5 stars. Such a pity...