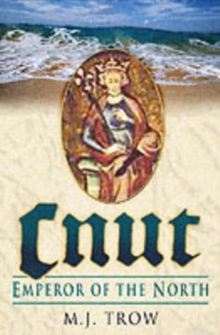 Canute : Emperor of the North
Hardback
Description
Canute is famous today as the bad king arrogant enough to believe he could stem the tide.
This book peals back the layers of legend and mythmaking to reveal the true history of King Canute and the kingdom he ruled.
England in Canute's time was made up of seven Saxon kingdoms which had been ravaged by raids for decades.
Already king of Denmark by 1014, Canute was one of three claimants for the English throne and on the face of it, the least likely to succeed.
The others were the occupant, Ethelred and Edmund - known as Ironside - Ethelred's eldest son.
Two years of in-fighting among the three combatants followed, with the timely and suspicious deaths of both his rivals ensuring Canute was the undisputed first Danish king of England.
Canute had achieved power but he had yet to win the hearts and minds of Englishmen so he married their queen, Emma, widow of Ethelred and perhaps 20 years older than him.
By this, Canute assured an Anglo-Danish succession, burying the hatchet after a century of war and violence.
Safe in the knowledge that England was loyal, Canute embarked on an ambitious, bloody and successful foreign policy. When he died he was the most powerful king in Europe except the Holy Roman Emperor and England was a united nation.
Information
Format: Hardback
Pages: 272 pages, Illustrations, maps
Publisher: The History Press Ltd
Publication Date: 20/01/2005
ISBN: 9780750933872
Free Home Delivery
on all orders
Pick up orders
from local bookshops