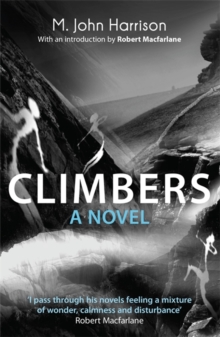 Climbers : A Novel
Paperback
Description
One of M. John Harrison's most acclaimed novels in a career of near universal acclaim, CLIMBERS is, perhaps, the least fantastical of his novels.
Yet it carries life-changing moments, descriptions of landscape bordering on the hallucinogenic and flights of pure fictive power that leave any notion of the divide between realistic and unrealistic fiction far behind.
First published in 1989, CLIMBERS has remained a strong favourite with fans and reviewers alike. A young man seeks to get a grip on his life by taking up rock-climbing.
He hopes that by engaging with the hard realities of the rock and the fall he can grasp what is important about life.
But as he is drawn into the obsessive world of climbing he learns that taking things to the edge comes with its own price. Retreating from his failed marriage to Pauline, Mike leaves London for the Yorkshire moors, where he meets Normal and his entourage, busy pursuing their own dreams of escape.
Travelling from crag to crag throughout the country, they are searching for the unattainable: the perfect climb. Through rock-climbing, Mike discovers an intensity of experience - a wash of pain, fear and excitement - that obliterates the rest of his world.
Increasingly addicted to the adrenaline, folklore and camaraderie of the sport, he finds, for a time, a genuine escape.
But it is gained at a price...This dark, witty and poetic novel is full of the rugged beauty of nature, of the human drive to test oneself against extremes, and of the elation such escape can bring.
Information
Format: Paperback
Pages: 256 pages
Publisher: Orion Publishing Co
Publication Date: 09/05/2013
ISBN: 9780575092174
Free Home Delivery
on all orders
Pick up orders
from local bookshops
Reviews
Showing 1 - 1 of 1 reviews.
Review by reading_fox
16/06/2015
I've seldom read a worse book than this - well written as it is. Pretentious, pointless, confused, and just wrong in so much spirit despite getting the technical details reasonably correct. It is "set" in 1984 - although you don't find this out until very near the end, and given the incredibly confusing flashback nature of the way it is written could be almost anytime from the late 70s onwards. A youngish man called Mike comes to Manchester looking for a new start in life and to try his hand at his 'climbing thing he's seen somewhere. But it's all dark and rainy up North, all the time, and so it's grim and he doesn't climb much. Apart from sudden bits where he does with some vague acquaintances that he's made. I'm sure the author intends some metaphorical journey equivalent to a climb, but it doesn't work in any respect. Mike knows nothing about his acquaintances, and doesn't bother to find out about them either. Apparently no-one Up North is trusted to tell the truth about themselves, because these are all shifty people making cash on the side, layabouts, and otherwise ne'er-do-wells. If they were supposed to illustrate the sacrifices they make to be good at their chosen sport, then it would help if at least one of them had actually been any good. Instead they're all depicted as no more than average, with a casual air of competancy, but at least a little bit better than Mike. One of them falls off an easy climb and dies suddenly. No explanation is ever given why he was doing that climb, how he came to fall off (climbers as a general rule don't "just fall off") or anything else. There had been some inspection into his life, but nothing came of it. Particularly annoying about this is that the following scenes where the climbing friends attend his funeral and interact with his family are some of the best in the book - poignant, detailed and imaginative. To be fair, it is quite obvious that Harrison is a skilled author, he creates vivid scenes in detailed prose that reads easily. The technical climbing details (unexplained so you do need to have a little familiarity with terms like 'runners' and 'gear placement') are accurate. The rocks, crags, cliffs and cafés are real places frequented by climbers still (apart from those that have shut). But for all this he completely fails to capture any of the real spirit of climbing. None of the emotion or challenge; adrenaline highs and euphoric success is found. Neither are the depressive lows, the days when it doesn't work, when injury or work or life keeps you away from the rock , and frustration mounts until not climbing is impossible. None of that comes through at all. There are a few occasions when there are attempts to capture this, but hey nearly always appear through eh characters other interactions with the world, rather than from climbing itself. The author may have been climbing once or twice, he has almost certainly seen plenty of climbing. But he does not understand climbing. Which makes it a particularly poor choice to use as theme for this novel. Particular hates: Having a chapter entitled 'Fall' in a climbing book, set in england, by an english author, but meaning Autumn.Pg 77 "I had already seen that, to climbers, climbing was less a sport than an obsession. It was a metaphor by which they hoped to demonstrate something to themselves" Absolute codswallop. I'll allow the gross generalisation for climbers although in truth there are many strands of climbers, but none of them that I have ever met, ever, not even once, think of climbing as a metaphor for anything. Obsession sure. But only in terms of itself, nothing half so pretentious as being a metaphor for "something" about themselves. Typing /writing .grammar errors. One was horrendous in that the whole sentence made no sense at all. I can't face the thought of skimming this rubbish again to find it though.Polaroid photos don't improve after a year. If they were faded and rubbish to being with, they only get worse.The whole wife and daughter-in-law sub plot thing. Do not care. Doesn't fit into anything else, seems irrelevant at best, and contradictory at worst, especially when he doesn't meet her. What the hell happened to Nina?Cavers are not some strange subspecies of human. Caves don't smell and generally aren't slimy. Cavers do have the best parties though!There's also a very boring forward which starts out by telling you what happens 'In the final pages'. Thanks for nothing whoever you are who wrote that. Rubbish all the way through. I've read it for you. You shouldn't waste your money or time on it.