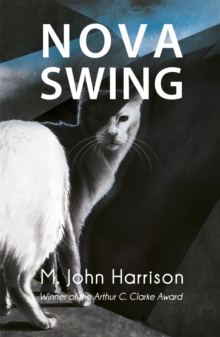 Description
It is some time after Ed Chianese's trip into the Kefahuchi Tract.
A major industry of the Halo is now tourism. The Tract has begun to expand and change, but, more problematically, parts of it have also begun to fall to earth, piecemeal, on the Beach planets.We are in a city, perhaps on New Venusport or Motel Splendido: next to the city is the event site, the zone, from out of which pour new, inexplicable artefacts, organisms and escapes of living algorithm - the wrong physics loose in the universe.
They can cause plague and change. An entire department of the local police, Site Crime, exists to stop them being imported into the city by adventurers, entradistas, and the men known as 'travel agents', profiteers who can manage - or think they can manage - the bad physics, skewed geographies and psychic onslaughts of the event site.But now a new class of semi-biological artefact is finding its way out of the site, and this may be more than anyone can handle.
Information
Format: Paperback
Pages: 272 pages
Publisher: Orion Publishing Co
Publication Date: 08/11/2007
Category: Science fiction
ISBN: 9780575079694
Free Home Delivery
on all orders
Pick up orders
from local bookshops
Reviews
Showing 1 - 2 of 2 reviews.
Review by jaygheiser
16/06/2015
Compelling read. Very postmodern future in which nothing quite happens and life is meaningless.
Review by kevinashley
16/06/2015
This book is of a type that one rarely, if ever, encounters - a sequel that is utterly different in style and form to its predecessor. Nova Swing explores a patch of universe affected by the Kefahuchi tract that was introduced in 'Light'. But it isn't a sequel in a narrative sense, and I don't believe you need to read one before the other or indeed read them in any particular order.I did, however, read 'Light' first, some years ago. I loved it. For me, 'Nova Swing' doesn't live up to it. It's a conscious attempt to pastiche a noir detective story and it has many of the characters and plot devices familiar to them, translated to suit the unusual setting of a world which the Kefahuchi tract penetrates at one point. There are weary detectives, good-hearted prostitutes, bar owners good and bad, prize fighters and carnival-like environs. And cats. Lots of ghostly cats.It's entertaining in parts, amusing in some and it contains some new ideas. Not all of them are worked through to my satisfaction, and so I ended up disappointed that I had had a good read where I expected a great one. If you don't expect so much, you'll probably get a lot more from this.
Also in the Gollancz S.F. series | View all