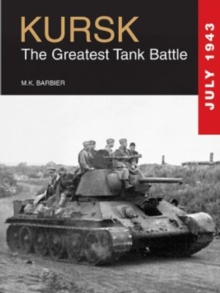 Kursk : The Greatest Tank Battle
Hardback
Description
In July 1943, the German Army launched what proved to be its last great offensive on the Eastern Front.
Kursk is a comprehensive history of the last time that Germany held the strategic initiative in the war against the Soviet Union.
Once that initiative was lost, the course was set for the eventual destruction of the Nazi state by a vengeful Red Army.
Kursk shows how a bitter struggle developed between the German and Soviet forces which sucked huge numbers of tanks and men into a small area, becoming the greatest armoured battle of the war.
The Red Army of 1943 was very different from the force that reeled before the German onslaught in 1941, and its newfound professionalism and greater numbers wore down the attackers until all their momentum (and the battle) was lost.
The final chapter discusses the full implications of the battle for the Germans and Russians. The book's authoritative text is complemented with detailed maps that explain the troop movements that took place during the battle.
It also includes appendices with information on orders of battle, losses and equipment.
Kursk is an expert account of the moment when the Nazi state lost the initiative against the USSR and how the course was set for the eventual destruction of Nazi Germany.
Information
Format: Hardback
Pages: 192 pages, 200 photographs
Publisher: Amber Books Ltd
Publication Date: 15/04/2013
Category: Second World War
ISBN: 9781782740223
Free Home Delivery
on all orders
Pick up orders
from local bookshops