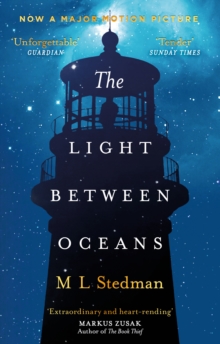 The Light Between Oceans
Paperback
Description
The global bestselling debut, now a word-of-mouth classic - a heart-rending story of a lighthouse keeper and his wife who face a life-changing moral dilemma when a baby in a boat washes up on their island. THE SUNDAY TIMES BESTSELLER2.3 million copies sold The international bestselling book of the major Hollywood film starring Michael Fassbender and Alicia Vikander A Richard and Judy bookclub favouriteGoodreads historical category winner'Extraordinary and heartrending' MARKUS ZUSAK, author of The Book ThiefA boat washes up on the shore of a remote lighthouse keeper's island.
It holds a dead man - and a crying baby. The only two islanders, Tom and his wife Izzy, are about to make a devastating decision.
They break the rules and follow their hearts. What happens next will break yours. 'Unforgettable' Guardian'A moving tale ...prepare to weep' New York Times
Information
Format: Paperback
Pages: 464 pages
Publisher: Transworld Publishers Ltd
Publication Date: 09/05/2013
ISBN: 9780552778473
Free Home Delivery
on all orders
Pick up orders
from local bookshops
Reviews
Showing 1 - 2 of 2 reviews.
Review by AnglersRest
16/06/2015
Over recent years I have read several books that have all won prestigious book prizes. With many of them I have wondered just what the hype was all about, or was I being a complete philistine and missing the point, or not reading deep enough.Then about two weeks ago a librarian and member of my book group presented me with my reserved copy of the Devon libraries summer read; The Light Between Oceans.I started reading over the weekend and feel very tired today as I was awake finishing this book into the early hours.The scene of the story is set when Tom, a decelerated war hero from the First World War returns to Australia and is given the chance to work temporarily at a lighthouse situated off the Australian coast, on a fictitious island called Janus.Tom is ready for the peace and quiet of island living.Coming to terms with his war time terrors and survivors guilt he sets about living for months on the island, where the methodical process of keeping the lighthouse functioning becomes his anchor.On a period of leave a few months later he reacquaints himself with a local girl from the shore and they spend much time together, and eventually the decision is made, Tom will marry Isabel.It is during their time on the island that they encounter a rowing boat upon the rugged coast line of the island. The inhabitants are a dead man and a young, breathing baby. Isabel has had numerous miscarriages and this seems to her to be divine intervention. A baby for them to love and care for.Tom struggles between duty to the procedural issues of the lighthouse, to his wife and to his own happiness. Ultimately Tom's struggle with his own conscience and doing the right thing tears his and Isabel's life apart, but once the wheels have started to turn there is no going back.This was a beautiful book, with a lovely well researched story. There is much more that I could share with you, but I won't. Locate a copy and read it! For me this has the wow factor that many of the books that win prestigious book prizes lack. The book not only was well researched, but delivered a moral and ethical dilemma and as I turned the pages I wondered what I would have done in Isabel and Tom's shoes.
Review by Helenliz
16/06/2015
I listened to this on audiobook read by the softly spoken Antipodean Noah Taylor. And very nice he was to listen to. The was also helped by the beautiful prose being read. Although it might not be the wisest selection for listening to while driving, as the last disk has the tears a-flowing. Set in the 20s, this tells of Tom, a veteran of the trenches who returns to Australia and spends the next few years trying to escape people and the world. he ends up as a lighthouse keeper and eventually finds his way the the most remote of postings - Janus rock. This is situated at the confluence of the Southern & Indian Oceans and is miles from the coast. It also happens to be the last point of Australia Tom saw on his voyage to the horror of WW1.He meets and marries Isabel, a girl in the port nearest Janus and through her starts to loosen that tight knot inside him. Then comes the miscarriages she suffers and when a boat washes up with a dead man and a child on board, they take her in and keep her. How this all unravels (and it does) is not pretty. It's heartbreaking - and I'm not at all the nurturing type. The pain that this action inflicts on Isabel & Tom, the child, the town, the extended family it all just gets more and more raw as the finale approaches. I liked that fact that you don;t get all of the information in time order. Information about Tom's family and upbringing are scattered in as the book progresses. Isabel's state of mind becomes clearer later, as do Tom's reasons for changing his mind about rhe child. The ending is set some 20+ years later and is bittersweet. But it at least escapes meing mawkish and all happy-ever-after. Satisfying might be the best description.This is beautifully written, and is a really great exploration of a life and the impact that a single action can have on those we don;t even know. I'm giving this 4.5 starts - it may have made 5 had I read it and it could have had my full attention - especially the end.