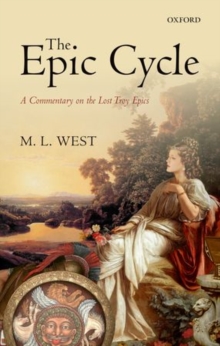 The Epic Cycle : A Commentary on the Lost Troy Epics
Hardback
Description
The Iliad and Odyssey do not cover the main story of the Trojan War.
The whole saga, which includes Zeus' plan to reduce the world's population, the Judgment of Paris and seduction of Helen, the start of the campaign, the Wooden Horse, the fall of Achilles, the homecoming of Agamemnon, and the eventual death of Odysseus, was related in six other epics, dating from 630-560 BCE, that were influential for lyric poets, tragedians, and artists of theclassical age but are known to us only through fragments and brief prose summaries.
In this book Martin West presents all the source material and provides the first comprehensive commentary on it, making full use of iconographic as well as literary evidence.
Discussing the individual fragments and testimonia, he endeavours to reconstruct the connections between them, so far as possible, and to build up a picture of the plan and course of each poem.
In a substantial introduction he addresses general issues, including the nature and formation of the Epic Cycle, the status of thesummaries of the Troy epics preserved under the name of Proclus, the validity of the attested ascriptions to particular poets, the reflexes of the Cycle in early art and literature, and its fortunes in and after the Hellenistic period.
Information
Format: Hardback
Pages: 346 pages, 3 in-text illustrations
Publisher: Oxford University Press
Publication Date: 07/03/2013
ISBN: 9780199662258
Free Home Delivery
on all orders
Pick up orders
from local bookshops