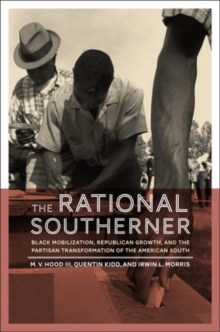 The Rational Southerner : Black Mobilization, Republican Growth, and the Partisan Transformation of the American South
Paperback / softback
Description
Since 1950, the South has undergone the most dramatic political transformation of any region in the United States. The once Solid-meaning Democratic-South is now overwhelmingly Republican, and long-disenfranchised African Americans vote at levels comparable to those of whites.
In The Rational Southerner, M.V. Hood III, Quentin Kidd, and Irwin L. Morris argue that local strategic dynamics played a decisive and underappreciated role in both the development of theSouthern Republican Party and the mobilization of the region's black electorate. Mobilized blacks who supported the Democratic Party made it increasingly difficult for conservative whites to maintain control of the Party's machinery. Also, as local Republican Party organizations became politicallyviable, the strategic opportunities that such a change provided made the GOP an increasingly attractive alternative for white conservatives. Blacks also found new opportunities within the Democratic Party as whites fled to the GOP, especially in the deep South, where large black populations had the potential to dominate state and local Democratic Parties. As a result, Republican Party viability also led to black mobilization.
Using the theory of relative advantage, Hood, Kidd, and Morris provide a new perspective on party system transformation. Following a theoretically-informed description of recent partisan dynamics in the South, they demonstrate, with decades of state-level, sub-state, and individual-level data, that GOP organizational strength and black electoral mobilization were the primary determinants of political change in the region.
The authors' finding that race was, and still is, the primary driverbehind political change in the region stands in stark contrast to recent scholarship which points to in-migration, economic growth, or religious factors as the locus of transition.
The Rational Southerner contributes not only to the study of Southern politics, but to our understanding of party systemchange, racial politics, and the role that state and local political dynamics play in the larger context of national politics and policymaking.
Information
Format: Paperback / softback
Pages: 268 pages, 32 figures and 12 tables
Publisher: Oxford University Press Inc
Publication Date: 29/05/2014
Category: Asian history
ISBN: 9780199377640
Free Home Delivery
on all orders
Pick up orders
from local bookshops