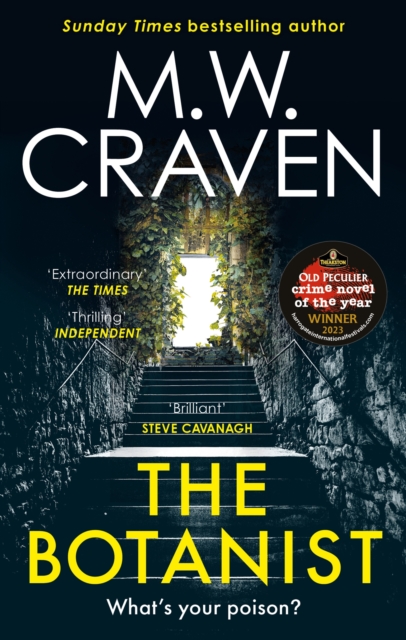 The Botanist : a gripping new thriller from The Sunday Times bestselling author
Paperback / softback
Description
WINNER OF THE THEAKSTON OLD PECULIER CRIME NOVEL OF THE YEAR 2023'Mesmerising, macabre and murderously funny.
The Botanist is M.W. Craven at his sinister best. I couldn't love this series more' Chris Whitaker'Another classy thriller from the king of Cumbrian crime' Paul Finch'I swear I'm one bad mood away from calling it black magic and going home . . .'Detective Sergeant Washington Poe can count on one hand the number of friends he has. And he'd still have his thumb left. There's the insanely brilliant, guilelessly innocent civilian analyst, Tilly Bradshaw of course.
He's known his beleaguered boss, Detective Inspector Stephanie Flynn for years as he has his nearest neighbour, full-time shepherd/part-time dog sitter, Victoria. And then there's Estelle Doyle. It's true the caustic pathologist has never walked down the sunny side of the street but this time has she gone too far?
Shot twice in the head, her father's murder appears to be an open and shut case. Estelle has firearms discharge residue on her hands, and, in a house surrounded by fresh snow, hers are the only footprints going in.
Since her arrest she's only said three words: 'Tell Washington Poe.'Meanwhile, a poisoner the press have dubbed the Botanist is sending high profile celebrities poems and pressed flowers.
The killer seems to be able to walk through walls and, despite the advance notice he gives his victims, and regardless of the security measures the police take, he seems to be able to kill with impunity. For a man who hates locked room mysteries, this is going to be the longest week of Washington Poe's life . . . Praise for The Botanist: 'Unputdownable, gripping, clever and with a rich seam of trademark Craven humour running through it' Imran Mahmood'A sinful treat' Vaseem Khan'Fast, furious, and utterly enjoyable.' Keith NixonPraise for M W Craven:'Heart-pounding, hilarious, sharp and shocking, Dead Ground is further proof that M.W.
Craven never disappoints. Miss this series at your peril.' Chris Whitaker'Dark and entertaining, this is top rank crime fiction.' Vaseem Khan, Author of the Malabar House series and the Baby Ganesh Agency series'M.
W. Craven is one of the best crime writers working today.
Dead Ground is a cracking puzzle, beautifully written, with characters you'll be behind every step of the way.
It's his best yet.' Stuart Turton'Fantastic' Martina Cole'Dark, sharp and compelling' Peter James'I've been following M.W.
Craven's Poe/Tilly series from the very beginning, and it just gets better and better.
Dead Ground is a fast-paced crime novel with as many twists and turns as a country lane.
I can't wait for the next one.' Peter Robinson'Dead Ground is both entertaining and engaging with great characters and storyline.
I loved this first dip into the world of Tilly and Poe!' BA Paris'A brutal and thrilling page turner' Natasha Harding, The Sun'A thrilling curtain raiser for what looks set to be a great new series' Mick Herron'A powerful thriller from an explosive new talent.
Tightly plotted, and not for the faint hearted!'David Mark'A gripping start to a much anticipated new series' Vaseem Khan'Satisfyingly twisty and clever and the flashes of humour work well to offer the reader respite from the thrill of the read.' Michael J.
Malone'Nothing you've ever read will prepare you for the utterly unique Washington Poe' Keith Nixon
Information
Format:Paperback / softback
Pages:448 pages
Publisher:Little, Brown Book Group
Publication Date:24/11/2022
Category:
ISBN:9780349135557
Other Formats
Hardback from £14.95
EPUB from £4.49
Information
Format:Paperback / softback
Pages:448 pages
Publisher:Little, Brown Book Group
Publication Date:24/11/2022
Category:
ISBN:9780349135557
Also in the Washington Poe series | View all