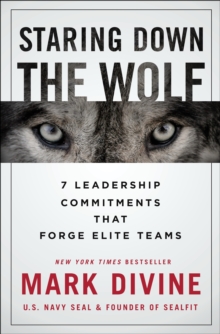 STARING DOWN THE WOLF
Hardback
Description
7 Leadership Commitments That Forge Elite Teams. What does it take to command a team of elite individuals?
It requires a commitment to seven key principles Courage, Trust, Respect, Growth, Excellence, Resiliency, and Alignment.
All of these are present in an elite team, which commits to them deeply in order to forge the character worthy of uncommon success.
Retired Navy SEAL Commander, entrepreneur and New York Times bestselling author Mark Divine founder of SEALFIT, NavySeal.com, and Unbeatable Mind reveals what makes the culture of an elite team and how to get your own team to commit to serve at an elite level.
Using
Information
Format: Hardback
Pages: 320 pages
Publisher: MELIA PUBLISHING SERVICES LTD
Publication Date: 01/04/2020
ISBN: 9781250231581
Other Formats
eAudiobook MP3 from £16.79