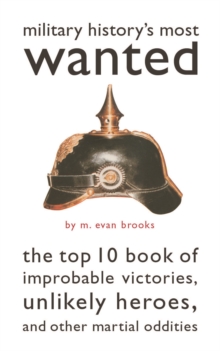 Military History's Most Wanted (TM) : The Top 10 Book of Improbable Victories, Unlikely Heroes, and Other Martial Oddities
Paperback / softback
Description
In 1944 U.S. Army Lt. Gen. Leslie J. McNair was accidentally killed by USAAF bombers that dropped their bombs short of the target, thus becoming the highest-ranking American casualty of World War II.
Union Gen. Daniel Sickels was the first person to be successfully acquitted of murder by pleading temporary insanity after he shot and killed the son of "Star-Spangled Banner" composer Francis Scott Key in cold blood.
Ten years before Custer's infamous last stand, U.S. cavalry Capt. William J. Fetterman disobeyed orders and led his eighty-man detachment in pursuit of a band of Sioux Indians.
Neither he nor his men returned. In the United States, Benedict Arnold's name is synonymous with treason, but in Russia Andrei Vlasov holds that dubious distinction.
After being captured by the Germans during World War II, he led an army of former Soviet POWs against the Red Army.
Famous men of the arts and letters, such as Maurice Chevalier and Jean-Paul Sartre, openly collaborated with the Axis during World War II yet managed to escape punishment after the war.
Entertainer Martha Raye was so beloved by the troops that she earned an honorary commission as "Colonel Maggie" and was allowed to be buried in Fort Bragg's military cemetery.
James Bond creator Ian Fleming graduated from Sandhurst and was a naval intelligence officer in World War II.
During the Thirty Years' War, Count Tilly lost control of his troops after capturing Magdeburg.
After three days of looting, they had killed 25,000 of the city's 30,000 inhabitants. Military History's Most Wanted (TM)chronicles 700 of the most outlandish commanders, battles, and accomplishments in military history.
Its seventy lists include warfare's top ten winners, losers, traitors, entertainers, war novels, and movies.
Military historians, buffs, and enthusiasts will enjoy this often irreverent and controversial look at the profession of arms.
Information
Format: Paperback / softback
Pages: 288 pages
Publisher: Potomac Books Inc
Publication Date: 15/05/2002
Category: History: specific events & topics
ISBN: 9781574885095
Free Home Delivery
on all orders
Pick up orders
from local bookshops