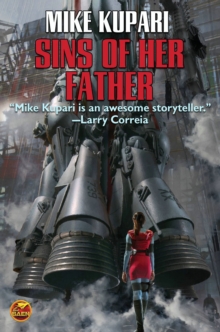 SINS OF HER FATHER
Paperback
Description
It has become clear to both the Jao and their human and Lleix partners that if they are going to defeat the Ekhat who have been terrorizing the galaxy for eons, they need more allies.
To that end, Preceptor Ronz, guardian of Earth and greatest living strategist of the Jao, has harnessed the energy of Earths humans to create and send out an exploration fleet under the command of Caitlin Kralik.
But after a long search, all the expedition has found are dead worlds and now-extinct intelligent species slaughtered by the genocidal Ekhat.
Do they continue to search down the galactic arm in which Earth and the Jao worlds lie, or
Information
Format: Paperback
Pages: 560 pages
Publisher: DIAMOND BOOK DISTRIBUTORS
Publication Date: 06/03/2018
Category: Fiction: special features
ISBN: 9781481482837
Free Home Delivery
on all orders
Pick up orders
from local bookshops
Also by MIKE KUPARI