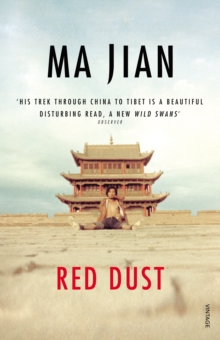 Description
In 1983, Ma Jian turned 30 and was overwhelmed by the desire to escape the confines of his life in Beijing.
Deng Xiaoping was introducing economic reform but clamping down on 'Spiritual Pollution'; young people were rebelling.
With his long hair, jeans and artistic friends, Ma Jian was under surveillance from his work unit and the police.
His ex-wife was seeking custody of their daughter; his girlfriend was sleeping with another man.
He could no longer find the inspiration to write or paint.
One day he bought a train ticket to the westernmost border of China and set off in search of himself.
His journey would last three years and take him to deserts and overpopulated cities.
The result is a compelling and utterly unique insight into the teeming contradictions of China that only a man who was both an insider and an outsider in his own country could have written.
Information
Format: Paperback
Pages: 336 pages
Publisher: Vintage Publishing
Publication Date: 02/05/2002
Category: Biography: general
ISBN: 9780099283294
Free Home Delivery
on all orders
Pick up orders
from local bookshops
Reviews
Showing 1 - 4 of 4 reviews.
Review by cestovatela
16/06/2015
I owe this book a lot for awakening me to the possibility of traveling to Urumqi, but ultimately, it's not one of my favorite pieces of travel writing. Ma Jian's writing style is a little too restrained and doesn't convey a full and vivid picture of the places he visits.
Review by ablueidol
16/06/2015
China of the 80's through the eyes of a 30 year old intellectual tying to make sense of himself and China as it and he changes. The context is trying to avoid the consequences of a campaign against spiritual pollution at the height of the four modernisations policy. Over a million went to jail and 23,000 were executed. It captures the range and complexity of China and the pain of rejecting a Buddhist's response to Marxism or the Market. Being in China now you can see how much its has changed materially and even politically since that time where many of the things he did at great risk( have parties, sleep with girls, talk about art and poetry, travel are now commonplace. But he does pose an unanswered question: if you have economic liberalism without political pluralism will you run the risk of promoting greed as the main civic value? Seeing the growing divide in China and the flashy new money you wonder. The cake is certainly bigger so even the poorest are better off then 20 years ago but...but
Review by cerievans1
16/06/2015
Winner of Thomas Cook Travel Book Award 2002This is a fascinating account of travels across China in 1983-6 by the journalist Ma Jian. Tired of his job working for the Propaganda department of the Communist Party in Beijing and disillusioned with his personal life, Ma Jian spends over 3 years travelling across China. I found the book initially hard to get into, but I was won over by the tales of ordinary, very poor people's kindness towards Ma Jian, his numerous brushes with death and the law,and his portrayal of a China amidst change i.e. the development of places like Shenzhen and Guangzhou as economic hotspots against the campaign of the Communist Government against Spritual Pollution and the contrast between the relatively affluent lifestyles of the Beijing set alongside the subsistence lifestyle of country people. I was particularly touched by the story of a festival celebrating regional way of life where a number of people were invited from country villages to demonstrate their culture, but they were duped into buying cassette players (remember this is 1983!) which had bricks in the middle, having spent a year's savings on the item. I am really looking forward to Ma Jian's new book about the events leading up to the Tianmen massacre.****
Review by cajela
16/06/2015
What an amazing book! Ma Jian is a Beijing photographer who flees Beijing just ahead of a smallish cultural purge in the 1980s. He's travelling not just to to escape the politics, but to escape his discontent with his love life and work life. He's off to find himself, and to find the real China. He travels in alarmingly precarious ways, nearly kills himself getting lost in deserts and jungles. He survives by doing small art works or selling souvenirs, or relying on the kindness of strangers and old friends.It's a fascinating view into a very different world. At times it's hard to get into, Ma can seem callous and unsympathetic on first glance, but his love for the people of his huge, sprawling, complex country is a constant background glow.