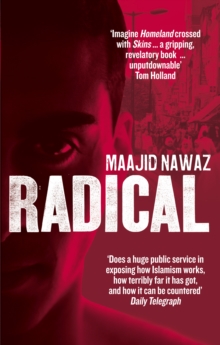 Radical : My Journey from Islamist Extremism to a Democratic Awakening
Paperback
Description
Born and raised in Essex, Maajid Nawaz was recruited into politicised Islam as a teenager.
Abandoning his love of hip hop music, graffiti and girls, he was recruited into Hizb ut-Tahrir (the Liberation Party) where he played a leading and international role in the shaping and dissemination of an aggressive anti-West narrative.
While studying for his Arabic and law degree, he travelled around the UK and to Denmark and Pakistan, setting up new cells. Arriving in Egypt the day before 9/11 his views soon led to his arrest, imprisonment and mental torture, before being thrown into solitary confinement in a Cairo jail reserved for political prisoners.
There, while mixing with everyone from the assassins of Egypt's president to Liberal reformists, he underwent an intellectual transformation and on his release after four years, he publically renounced the Islamist ideology that had defined his life.
This move would cost him his marriage, his family and his friends as well as his own personal security. Six years after his release, Maajid now works all over the world to counter Islamism and to promote democratic ideals through his organisation, The Quilliam Foundation, which he co-founded with former Islamist and bestselling author Ed Husain. Following in the wake of the extraordinary democratic change in the Arab world, that few would have foretold, Radical is Maajid's intensely personal account of life inside and out of Islamic extremism.
It also highlights one man's quest to inspire change and challenge extremism in all its forms. This is a hard-hitting memoir of one man's journey into and out of Islamic extremism.
Information
Format: Paperback
Pages: 400 pages
Publisher: Ebury Publishing
Publication Date: 02/05/2013
ISBN: 9780753540770
Free Home Delivery
on all orders
Pick up orders
from local bookshops
Reviews
Showing 1 - 1 of 1 reviews.
Review by jose.pires
27/08/2015
To the white majority, who even now think of this country as a placid place, it will seem extraordinary that the author of this dramatic memoir was born in Southend. Maajid Nawaz is still only in his mid-thirties. He was brought up in a prosperous, middle-class, anglophile household of Pakistani origin. In his teens, he became an Essex ''b-boy'', and got into fights with Paki-bashing skinheads. In college in London, and later at its renowned School of Oriental and African Studies, he was an extreme Islamist activist. He was present when one of his fellow extremists stabbed an African student to death. He married at 21, and had a son.Nawaz was a leading firebrand in Hizb al-Tahrir (HT), the militant organisation that wishes to overthrow all infidel regimes and establish a new Muslim Caliphate. Although it is not itself a terror organisation, its ideology legitimises violence. The author traces what he calls its ''snail's trail'' all the way to al-Qaeda.Nawaz did not agitate in Britain alone. He went first to Denmark, and then to Pakistan, where HT was stirring up students and recruiting army officers of that newly nuclear nation to bring about an Islamist coup. Then he went to Mubarak's Egypt to spread the HT word there. He was arrested, tortured and spent more than four years in prison. His arrest took place after September 11 2001. There is some suggestion that the British authorities were complicit.When Nawaz was released in 2006, he returned to Britain and a hero's welcome from the militants. But while he was in jail, a different story had been ''unfolding inside my own head''. Starting with his doubts about the motives of the HT leaders, he began to ask himself deeper questions. Despite his rhetorical devotion to Islam, he had been obsessively political, and knew little about the religion in whose name he had struggled and plotted. In jail, he studied. He also met lots of other people, including secularists, imprisoned for beliefs quite unlike his own. He found that he respected them. He concluded that his zealotry had not been truly religious, but a Muslim-coloured version of Western student revolt: ''We Islamists were the bastard children of colonialism.''So Brother Maajid broke away from HT, even as he was being offered its British leadership, and even though the break brought his marriage to an end. Temporarily homeless, and sleeping at night in his Renault Clio parked in Tavistock Square, near the scene of the July 7 bombings of 2005, Nawaz conceived a mission to bring ''democratic awakening'' to Muslims here and abroad. He set up Quilliam, the first Muslim organisation dedicated to confronting the extremists. Nowadays, he is trying to create political pluralism in Pakistan, Egypt and Libya. He helped David Cameron with his important Munich speech on countering extremist ideology.