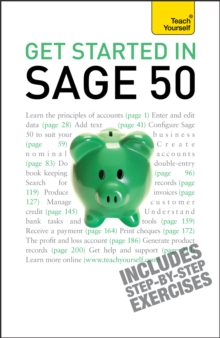 Get Started in Sage 50 : An essential guide to the UK's leading accountancy software
Paperback / softback
Description
Is this the right book for me?Do you want to have a clear understanding of accounting principles and know how to prepare accounts using Sage?Get Started in Sage Line 50 introduces the principles behind the system - because if you understand how a system works, you will master it more quickly and be better equipped to sort out any problems later- and demonstrates how to use the various modules and facilities, for day-to-day accounting, for end-of-period summaries and reports and for trouble-shooting and analysis at any time.
By the end of the book, you will have a clear understanding of acccounting principles and know how to prepare accounts using Sage.
With its practical approach and clear illustrations, Get Started in Sage Line 50 is an essential resource for any user. Get Started in Sage Line 50 includes:Chapter 1: The principles of accountsThe common basisAccounts and informationDouble-entry bookkeepingCustomers and suppliersThe nominal ledgerAnalysis and outputsChapter 2: The Sage 50 systemGetting startedThe screen displayViewing records and transactionsEntering dataSelectionsWizardsSmart linksThe diaryReport designerFile maintenanceBackupsChapter 3: Setting up the accountsCompany dataDetails and defaultsMultiple users and access rightsCustomers and suppliersBank accountsProductsInvoice and order defaultsProgram dateChange passwordChapter 4: The Company moduleCompany tasks and toolsNominal recordsChart of AccountsEditing the Nominal accountsDouble-entry bookkeepingJournal entriesActivityReportsChapter 5: Customers and suppliersNew recordsViewing and editing recordsSearchingCustomer reportsStatements and labelsChapter 6: InvoicesInvoicing in Sage 50Credit notesPrinting invoicesUpdating ledgersBatch invoicesOrder processingChapter 7: Credit controlManaging customer creditDay Sales AnalysisCommunicationsCash flowAged analysisWrite offsManaging supplier creditChapter 8: The Bank tasksThe Bank moduleReconciliationPayments and receiptsReceive PaymentSupplier paymentsBatch paymentsRecurring entriesCheque printingTransfersStatementsReportsChapter 9: Financial controlFinancialsThe Audit TrailThe Trial BalanceThe Profit and Loss accountThe Balance SheetVerificationVATManaging the month endThe Year End routineChapter 10: ProductsThe Products moduleNew productsViewing and editing product dataPrice listsStock levelsChapter 11: Help and supportHelpContentsThe Help IndexSearching for HelpThe navigation panelSage on the WebAsk SageShortcut KeysLearn effortlessly with a new easy-to-read page design and interactive features: Not got much time?One, five and ten-minute introductions to key principles to get you started. Author insightsLots of instant help with common problems and quick tips for success, based on the author's many years of experience. Test yourselfTests in the book and online to keep track of your progress. Extend your knowledgeExtra online articles to give you a richer understanding of the subject. Five things to rememberQuick refreshers to help you remember the key facts. Try thisInnovative exercises illustrate what you've learnt and how to use it.
Information
Format: Paperback / softback
Pages: 240 pages, Screen grabs
Publisher: John Murray Press
Publication Date: 30/04/2010
Category: Accounting software
ISBN: 9781444100662
Free Home Delivery
on all orders
Pick up orders
from local bookshops