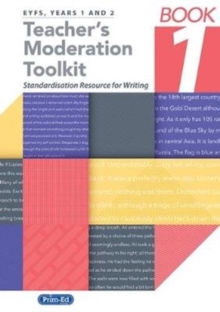 Teacher's Moderation Toolkit : Standardisation Resource for Teachers Book 1
Copymasters
Description
The Teacher's Moderation Toolkit can be used to standardise and benchmark children's writing at three termly intervals, as a CPD resource to support teachers working together to make judgements and also as a classroom resource to share the expected standards of writing with children.
Currently, writing is teacher assessed at both Key Stage 1 and Key Stage 2.
Teachers are expected to assess a collection of children's writing that illustrate writing for different purposes and in different forms; for example, a child may write a persuasive letter, an informative leaflet, a story with a flashback, a narrative poem and a survival guide linked to their creative curriculum.Assessing a collection of writing requires teachers to be able to identify features in the child's writing, answering the questions:What can this writer do?What features have they included?Do they meet the expected standard for their year group?Are they on track to be the expected standard by the end of the year?What features are missing from their writing?What are their next steps?Many schools have worked together to create writing portfolios of what is the expected standard for each year group. As a teaching school alliance, we recognised that teachers would benefit from a moderated, standardised toolkit that could both assist and guide teachers when making termly judgements about children's writing.Initially, we worked with English subject leaders spanning a range of local authorities in the north-west of England.
Schools were given a set of writing tasks to complete with years 1-6 so that it would be easier to make comparisons when moderating the writing.The first task was a picture prompt of a girl called Lizzie in a silver birch tree (See Appendix A)and children were asked to write a description.
The following term, schools were given a choice of writing prompts related to other pictures of Lizzie - a newspaper report, a narrative and a diary.As schools collated evidence of children writing at different points in the year, we decided to offer specific year group moderating sessions where teachers brought samples of children's writing and annotated them in groups (some of these samples feature as part of the resource).
At this point teachers did not use any criteria to moderate with.
Instead they focused on the question'What can this writer do?' and annotated the writing with appropriate labels; for example, noun phrases, multi-clause sentences, range of tenses, use of direct speech, commas in a list etc.After teachers from each year group had analysed and annotated a range of writing, English subject leaders and moderators began the selection process. Using the writing objectives for each year group, we began to make decisions about what the evidence files should look like.We were very keen for the collections to be realistic, include writing examples that teachers see every day and show obvious progression.
We recognised that teachers would want to see examples of writing that spanned across a range of genres.
Whilst reading through the annotated examples, we realised that it was not important what age the child who wrote the writing was; for example, a more able year 1 child's writing may have been used in the autumn of year 2 collection and equally a less able year 5 writer may be used as a good example in the spring collection of year 4.
Once the collections of writing had been established, a group of SLEs and moderators worked with the resource.
Our priority was that there was progression within the toolkit and the summer collection from one year group would directly lead into the autumn collection of the next.Once again, national curriculum objectives and the original work samples in Appendix B were regularly referred to and referenced to ensure consistency.Final decisions were made, the toolkit was agreed upon and resulted in 3 termly collections of writing for each year group from year 1 to 6. All of the writing examples have been typed up verbatim for ease and are annotated with some of the main features expected for specific year groups; for example, writing in the year 1collection is annotated with features teachers would expect to see in year 1 writing as prescribed in the national curriculum.
In the older children's writing, we have again focused on features we would expect to see evidence of in that specific year group and not commented on every single feature included by the child.eBook supplied with the book free of charge.
Information
Format: Copymasters
Pages: 88 pages
Publisher: Prim-Ed Publishing
Publication Date: 03/02/2017
Category: Educational material
ISBN: 9781846548826
Free Home Delivery
on all orders
Pick up orders
from local bookshops