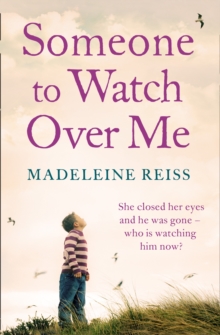 Someone to Watch Over Me : A Gripping Psychological Thriller
Paperback
Description
A haunting and absorbing debut - fans of Before I Go to Sleep and Sister will be hooked. She closed her eyes and he was gone - who is watching him now? When Carrie's five-year old son, Charlie, disappeared on a Norfolk beach, her world was destroyed.
Now, three years on, she is persuaded by her mother to visit a local medium.
Initially sceptical, Carrie is blown away when he appears to reveal something about Charlie's disappearance; something that nobody could ever have known except herself. Single mum, Molly, is worried about her young son, Max, who has been having more of his little `accidents' at school and has recently starting talking again to his imaginary friend.Molly knows that Max's problems stem from his very real anxieties about his father - a violent and unstable man - who they are now in hiding from. Little do the women know that their worlds are about to converge - and both of them will have to face the thing they fear the most.
But could the truth destroy them?
Information
Format: Paperback
Pages: 432 pages
Publisher: HarperCollins Publishers
Publication Date: 20/06/2013
ISBN: 9780007493012
Free Home Delivery
on all orders
Pick up orders
from local bookshops
Reviews
Showing 1 - 2 of 2 reviews.
Review by nicx27
16/06/2015
This is a fantastic read, well-written and quite something for a debut novel. It tells the story of two women, Carrie and Molly. Carrie's five year old son, Charlie, had disappeared on a trip to the seaside three years earlier and nobody knew what had happened to him. Getting on with her life, she opens up a gift shop. Molly also has a young son, Max, and is in a very abusive relationship. Carrie's and Molly's stories are told in almost alternating chapters.We know fairly early on how the two women are linked but for much of the story I was wondering how their stories would be brought together. When they were it was done so in spectacular fashion which made my heart race and my hand go over my mouth. Not long after that I had tears in my eyes from another part of the story. This is a book that has the power to cause different reactions in a reader.I found both women's stories addictive reading and this is truly a page-turning novel. The author's ability to write about feelings is excellent and I found myself completely drawn into the story.Highly recommended.
Review by DubaiReader
16/06/2015
Every couple's worst nightmare.I'm not normally a fan of psychological thrillers, but this one was well pitched, not too scary, but painfully believable. It is a well written debut novel, hopefully with many more to come.The unthinkable happens when Carrie closes her eyes in the sun on a Norfolk beach. Her young son, Charlie is nowhere to be seen and the world closes in on Carrie and her husband, Damien. The last person to see him seems to have been Max, who was playing with him just before his disappearance. Molly, Max's mum, met Carrie briefly that day, but their lives were to intersect in the years ahead.While we follow Carrie and Damien's attempt to cope with their loss, Molly and Max gradually become part of the story. This is well done, unobtrusively, until it is their fate that we are primarily concerned about. As expected, the two threads eventually intersect as the tension builds and we race to the denouement.Both the characters and the locations are well drawn and I loved Carrie's gift shop, Trove, full of all sorts of unexpected gems. I wasn't quite so keen on the regular breakdown on what everyone was wearing, however. Another reviewer has described this as a strange mix of chick-lit with thriller, and for me, that really sums it up. It's a mixture that works well here and gives a breather to the tension.There is also a slightly questionable element to the narrative, as we meet a medium later in the story, who claims to be able to link in with the dead. This may put some people off but I decided to just go with the flow. Maybe it was this slight cheat that persuaded me to give four stars instead of five.Anyway, an excellent read and I'll be watching out for more from this author.