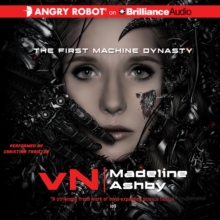 Please note: eAudiobooks can only be purchased with a UK issued credit card.
Description
Amy Peterson is a von Neumann machinea self-replicating humanoid robot. For the past five years, she has been grown slowly as part of a mixed organic/synthetic family. She knows very little about her android mothers past, so when her grandmother arrives and attacks them, young Amy wastes no time: she eats her alive.
Now shes on the run, carrying her malfunctioning granny as a partition on her memory drive. Shes growing quickly, and learning too. Like the fact that in her, and her alone, the failsafe that stops all robots from harming humans has stopped working. Which means that everyone wants a piece of her, some to use her as a weapon, others to destroy her.
Ashbys debut is a fantastic adventure story that carries a sly philosophical payload about power and privilege, gender and race. It is often profound, and it is never boring. Cory Doctorow
vN might just be the most piercing interrogation of humanoid AI since Asimov kicked it all off with the Three Laws. Peter Watts
Information
Format: eAudiobook MP3
Run-time: 10 hours 25 mins
File size: 429.78MB
Publisher: Brilliance Audio
Publication Date: 31/07/2012
Category: Science fiction
ISBN: 9781469209197
Other Formats
Paperback / softback from £6.69
Download and listen
eAudiobook