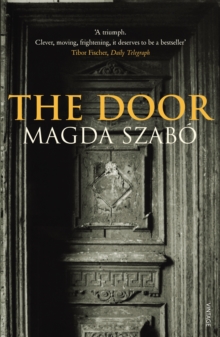 Description
A young writer, struggling for success, employs an elderly woman called Emerence to be her housekeeper.
From their first encounter it is clear that Emerence is no ordinary maid.
Although everyone in the neighbourhood knows and respects her, no one knows anything about her private life or has ever crossed her threshold.
Only a great drama in the writer's life prompts Emerence to unveil glimpses of her traumatic past - a past which sheds light on her peculiar behaviour. "The Door" brilliantly evokes the development of the bond between these two very different women, and the tragic ending to their relationship.
Information
Format: Paperback
Pages: 272 pages
Publisher: Vintage Publishing
Publication Date: 01/10/2006
ISBN: 9780099470281
Other Formats
Paperback from £7.65
CD-Audio from £21.35
Free Home Delivery
on all orders
Pick up orders
from local bookshops
Reviews
Showing 1 - 3 of 3 reviews.
Review by edwinbcn
16/06/2015
I read very little translated literature from countries which are relatively unknown to me, because many books belonging to the literature of such countries is difficult to understand if you are not fully aware of the history and socio-cultural background of these countries. Nonetheless, I was persuaded to buy this book by the Hungarian author Magda Szabó because I had seen a very favourable review, was planning to visit Hungary in 2010 and had already read another novel by her.Unfortunately, it worked out just as I had feared (of course). The central character, Emerence, is an old woman whose life story stands for the recent history of Hungary. She is an extremely resilient, peculiar and capricious person, the kind of person people would wrinkle their nose at and describe as "a character", in real life. The reader's sympathy for her, at least mine, swung from dislike, to sympathy, and back to strong dislike. The name "Emerence" means "worthy of merit", and that is what she would deserve. However, the reader gradually finds out how she was mangled through Hungarian history. The equilibrium which she had achieved towards the end of her life, the dignity she commands through strict privacy, is eventually ruthlessly destroyed, and the story end with her ultimate humiliation.The difficulty in understanding the novel, lies in the difficulty of understanding Hungarian life, history and the likelihood of encountering a woman like Emerence.
Review by alwright1
16/06/2015
While in Budapest, I looked for some Hungarian novels to read. This is one that I came across in the CEU bookstore and thought it sounded good. (I was also interested because it seemed to be received as "literary" despite being a book by a woman about the relationship between two women.)A writer and her husband hire on a very unusual maid named Emerence to care for their house while they work. She is an odd force of nature, a rare character, and well respected by the whole community, but almost no one knows anything about her, and she does not allow others into her home at all. What follows the mystery is an investigation into the nature of friendship, love, privacy, and sense of self. I read it all on a plane in one day.
Review by oldblack
16/06/2015
I found this to be a rather strange book. The main character, a woman called Emerence, is really wacky. She shouts abuse at her employer (the narrator) who is a writer, Emerence is constantly either critical of the writer or is just plain rude and incommunicative. Admittedly the writer is somewhat insensitive and indeed that's the aspect that interested me a little and actually got me through to the end. Because I'm an insensitive and stupid person myself, I found it slightly interesting to see what fate would befall the stupid and insensitive writer. It would help the reader to know a little bit of Hungarian history - I don't know any. It was not at all apparent to me why two such women would form any sort of bond, and yet this is the central aspect of the story.The aspect which I disliked the most was what I might call magical realism. A dog enters the story early. It lives with the writer but is in love with Emerence. The dog ("Viola") behaves like an intelligent human with magical powers of perception.Thinking back over it, I wonder how I finished it. The answer is that it's only a reasonably short book.
Also by Magda Szabo