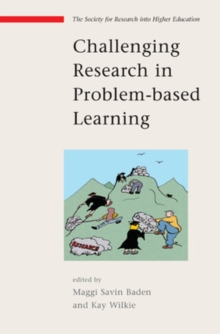 Challenging Research in Problem-based Learning
Paperback / softback
Description
"This is a wide ranging, clearly focused, accessible book that engages with the practices and findings of research into problem-based learning...
The book is clear on the problems and the strategies, the debates and the research based practices which make PBL accessible wherever it is suitable for effective learning." Professor Gina Wisker, Anglia Polytechnic University "This book punctures the sometimes inflated rhetoric about PBL by exploring some of its inherent difficulties and contradictions, and moves debate on through critical glimpses of the rich and varied practices undertaken under the banner of PBL."Professor Graham Gibbs, University of Oxford"...provides a wealth of practical and theoretical insights into the challenges of using pbl which will be of value both to those currently using the approach and those thinking of introducing it into their programmes."British Journal of Educational TechnologyThis book presents international research into Problem-based Learning within a range of subject and vocational disciplines, applications and cultures from a variety of perspectives: student, facilitator, module leader, curriculum designer.It presents a range of findings related to designing, implementing, assessing and evaluating PBL courses.
Challenging Research in Problem-based Learning is key reading for academics and tutors utilising PBL, as well as those studying for teaching qualifications, lecturers involved in teaching for the professions and on continuing professional development courses.Contributors:Terry Barrett, Brian Bowe, John Cowan, Roisin Donnelly, Erik de Graaff, Chris Hockings, Bill Hutchings, Dan Jacobsen, Peter Kandlbinder, Sharron King, Ranald Macdonald, Claire Howell Major, Yves Maufette, Karen O'Rourke, Betsy Palmer, Maggi Savin-Baden, Charlotte Silen, Alexandre Soucisse, Kay Wilkie.
Information
Format: Paperback / softback
Pages: 256 pages
Publisher: Open University Press
Publication Date: 01/09/2004
ISBN: 9780335215447
Free Home Delivery
on all orders
Pick up orders
from local bookshops