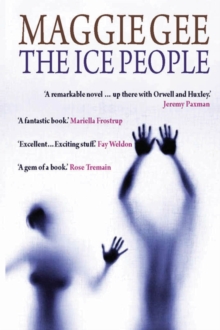 Description
'Set in the near future, it imagines not a globally warmed world, but an earth slowly returning to aridity and cold.
A universal freeze has also descended upon relationships between men and women, who live in morbid segregation, with feathered robots as sexual partners.
In a neat reversal of First World-Third World assumptions, Africa's relative warmth offers a last hope to northerly survivors as the novel charts one man's struggle to rescue his alienated son and bring him to where the sun shines' - Rose Tremain.
Information
Format: Paperback
Pages: 316 pages
Publisher: Telegram Books
Publication Date: 01/05/2008
ISBN: 9781846590382
Free Home Delivery
on all orders
Pick up orders
from local bookshops
Reviews
Showing 1 - 2 of 2 reviews.
Review by jayne_charles
16/06/2015
This sounded like an interesting concept when I spotted it in the bookstore. While the current preoccupation is with global warming and the melting of the ice caps etc, what if the earth actually got colder, and the Northern lands became uninhabitable? Suddenly Africa would come into its own. This is the main theme of this novel, but there are others along the way.First of all, the novel takes us a few years into the future, where society has been split - acrimoniously - along gender lines. Fertility has decreased massively. Explanations were given for this state of affairs, but not really enough for my liking. It's a big jump from where we are now - ie record numbers of teenage pregnancies in the UK. Assuming belief can be suitably suspended, we are introduced to the central female character, initially likeable, who first opposes the status quo, gender-wise, but after a series of bizarre personality mutations ends up a harridan, leaving her former partner to, erm, bonk the family's robotic housekeeper.Oddly, I thought the robot stole the show. She got all the best lines. I didn't get the feather thing, though. Why did she have feathers?What struck me most about the book was the way men dealt with the breakdown of traditional male-female relations by turning to robots who fulfilled all the traditional female roles (housekeeping, comfort, sex, reproduction) without the more modern ones (career, intelligence). It was a sort of consequences-of-extreme-women's-lib message that came out of this story, more than any tale of African world dominance. I would have liked to hear more about that, but still a good read, with reservations.
Review by K_Fox
16/06/2015
Utterly compelling story with unusual scope. Stretches itself through time & landscape like a nimble feline.