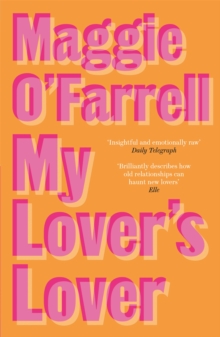 My Lover's Lover
Paperback
Description
From the Costa Award winning Maggie O'Farrell comes the Sunday Times Top Ten bestseller MY LOVER'S LOVER, an intense, unnerving and passionate story of betrayal, loss and love, with all the frisson and psychological intensity of Rebecca. When Lily moves into Marcus's flat and plunges headlong into a relationship, she must contend not merely with the disapproval of flatmate Aidan, but with a more intangible, hostile presence.
Could it be that Sinead, Marcus's ex, is trying to communicate with her?
When Lily begins to 'see' Sinead, first about the flat, and then on the streets of London, she must question not merely her sanity, but whether the man she loves is someone she can, or indeed ought, to live with at all.
Information
Format: Paperback
Pages: 336 pages
Publisher: Headline Publishing Group
Publication Date: 01/01/2003
ISBN: 9780747268178
Free Home Delivery
on all orders
Pick up orders
from local bookshops
Reviews
Showing 1 - 3 of 3 reviews.
Review by Mardel
16/06/2015
I liked this book. It was a little different than I'm used to, but I did enjoy reading it. However, there was one section that was a little confusing. Suddenly, after reading from one main character's pov (third person, present tense) the book suddenly switches to first person/present tense, then to third person present tense. It took me a little while to realize that the book has actually switched to another character's voice (the first person); in fact, at first I had to check the "Part 2" heading, see if there was a name or year mentioned. Nothing, just part 2. Not only does this section switch over to another character (who was previously only alluded to before), but sections are going back and forth in time, though they are both still set in the past. So one section, sometimes just a few pages long, is first person, present tense in the past; then you are suddenly reading in the third person present tense a few years into the future of this same person, back and forth, back and forth. I found this a little confusing and couldn't figure out why the author did this. Basically there are two stories of Sinead's past, which are divided up into smaller bits and shown in alternating strips. There wasn't any headings warning you of what was to come, just this back and forth bit.Other than that, this book was a page turner. The beginning main character, Lily, falls rather quickly into a relationship with a man who has lost his girlfriend Sinaed. She rents a room in his flat, and they quickly fall into a relationship. He (Marcus) has another roommate, Aidan, who seems a little hostile and disapproving. Lily begins experiencing events that appear to be hauntings. This section was a little suspenseful. Everything is not as it seems though. Lily becomes rather obsessed with finding out more about Sinead. Lily's inner stalker comes out, and Marcus also begins to show some odd behavior. You get some glimpses of Aidan's life also, quick little asides that just seem to make him more mysterious-until, of course, later.Then the strange section begins with back and forths from Sinead's point of view, from way past-first-person-present-tense, to recent(?)-past-third-person-present-tense-though-still-Sinead. This goes on for awhile, back and forth. This section, though interesting was difficult to read; it was hard for me to keep the events straight in my head. I still found the book interesting; interesting enough to think about reading other works by Maggie O'Farrell. She did exercise my brain a bit with her writing style. Her characters are not perfect human beings, which I liked- how many of us are completely wonderful people after all? Her characters do stupid, and sometimes cruel things-just like real people do. All in all, a good book.
Review by OrchidJ
16/06/2015
For me, the suspense in finding out what had happened to Marcus' last girlfriend was enough to keep me reading - but I was disappointed by the reveal which was a litle dull. I was expecting more from the plot.Some of the descriptive writing was vivid, but I didn't like her use of the present tense, to me it felt a little forced and I was very much aware of it, which took me out of the writing somewhat. The section from Sinead's point of view, when it flicked back and forth using a mixture of past and present tenses to describe two diffrent stories in the character's past, was an interesting device, but it didn't sit comfortably with the way the rest of the story had been told - it seemed an odd choice.
Review by shirley8
16/06/2015
Thought it was going to be a ghost story and it wasn't!Didn't really like this book at all.