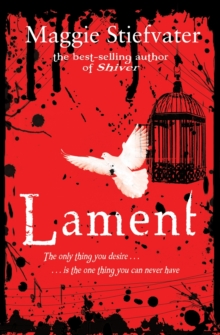 Description
Deirdre, a gifted musician, finds herself infatuated with Luke, a mysterious boy who enters her life, at the same time she discovers she's a Cloverhand-one who can see faeries.
Trouble is, Luke is a faerie assassin-and Deirdre is meant to be his next mark.
Another haunting, romantic fantasy from the New York Times best-selling author Maggie Stiefvater.
Information
Format: Paperback
Pages: 336 pages
Publisher: Scholastic
Publication Date: 01/01/2011
Category: Fantasy
ISBN: 9781407120317
Free Home Delivery
on all orders
Pick up orders
from local bookshops
Reviews
Showing 1 - 3 of 3 reviews.
Review by LarissaBookGirl
16/06/2015
It began with a balled, an ancient story of lament, a song of love and death sung with the voice of an angel by a girl who to the world is all but invisible. That is she is invisible to the human world but not to the faeries, not any more. Deirdre has captured the attention of the faeries and that can be deadly.Deirdre is falling in love with Luke; however Luke is no ordinary boy. Over a thousand years old and assassin to the Queen, Luke is dangerous, a killer, and yet Deirdre cannot help but follow when he calls, putting her life in his hands, which is exactly what the faeries want. Will love be enough to conquer death or are Deirdre and Luke as fated to tragedy as the lover in the balled of lament?Lament is a tale of love wrought through with heartache, music and magic, only this tragedy is also beautifully threaded with hope. As a modern story of faeries there is a seamless blending of fantasy and magic with the everyday that creates one of the most enthralling and authentic tales that is simply a pleasure to read.
Review by SMG-MStewart
16/06/2015
The book is perfect for teenage romance, and it also has danger and mystery from the faerie world.
Review by james7163
16/06/2015
First book I've read by Maggie Stiefvater and certainly my first book involving faeries. I'm hooked in both cases. Stiefvater has developed a strong female lead character in Deirdre, who must endure a tumultuous relationship, not only with her mother and her obnoxious aunt, but also with the Faerie Queen, who essentially has put out a hit on her. Deirdre must also sort out and understand her obsessed relationship with Luke, the boy of her dreams. She struggles to grasp Luke's true identity and intentions while coming to terms with her own identity and newly acquired mysterious powers. An absorbing book with great character development, Lament is a real page turner and a joy to read. I particularly enjoyed Stiefvater's descriptive details of the various faeries that coexist with humans but remain largely unseen. I'm looking forward to reading the second book of Gathering of Faerie series "Ballad."