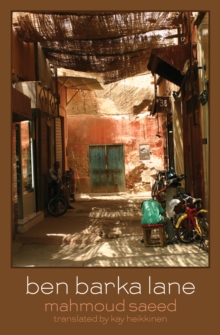 Ben Barka Lane
Paperback / softback
Description
Mahmud Saeed sends us a series of postcards from the Morocco of the late 1960's, as seen through the eyes of a young teacher and political exile from Iraq.
He shows us the beauty, turmoil, despair, and survival of a people and a nation in a time of upheaval and change.
Through it all he weaves an absorbing tale of passion, politics, vengeance, and betrayal.
Sharqi, a political refugee from Iraq, has come to Morocco in 1964 and finds work as a highschool teacher in the small city of al-Mohammadiya.
Morocco is in political and social turmoil, following the state suppression of the leftist opposition led by Mahdi ben Barka.
Al-Mahdi himself has been forced to flee and has disappeared.
Sharqi intends to keep his head down, but he meets Habib, a friend and comrade of al-Mahdi, who is still considered a threat by the government.
Strong bonds of friendship are formed between the two, but this brief respite changes during the summer with the appearance of Ruqayya, a beautiful young woman whose seductive appeal and mysterious motives will divide the friends, and set off a chain of events and intrigue that no one can foresee...Mahmoud Saeed has written more than 20 novels and short story collections. He was imprisoned several times and left Iraq in 1985 after the authorities banned the publication of some of his novels, including Ben Barka Lane (1970), which won the Ministry of Information Award in 1993.
He and his work have been featured in the Chicago Tribune, Al Jazeera, and the New Yorker.
Information
Format: Paperback / softback
Pages: 288 pages
Publisher: Interlink Books
Publication Date: 20/06/2013
ISBN: 9781566569262
Free Home Delivery
on all orders
Pick up orders
from local bookshops